Polish ruling party expected to win elections
| | |
| --- | --- |
| Publisher | Radio Free Europe/Radio Liberty |
| Publication Date | 9 October 2011 |
| Cite as | Radio Free Europe/Radio Liberty, Polish ruling party expected to win elections, 9 October 2011, available at: http://www.refworld.org/docid/4e9ea79d13.html [accessed 23 October 2017] |
| Disclaimer | This is not a UNHCR publication. UNHCR is not responsible for, nor does it necessarily endorse, its content. Any views expressed are solely those of the author or publisher and do not necessarily reflect those of UNHCR, the United Nations or its Member States. |
October 09, 2011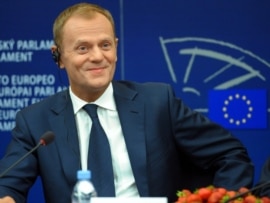 Polish Prime Minister Donald Tusk is favored to win another term.
Voting has begun in Poland's general elections, with centrist Prime Minister Donald Tusk battling for a second term in office against the conservative opposition.
Opinion polls showed Tusk's centrist and pro-EU Civic Platform party has support from about 35 percent of eligible voters.
But Civic Platform is facing a tough challenge from Law and Justice, the conservative and nationalistic party of former Prime Minister Jaroslaw Kaczynski.
Opinion polls before the vote showed Kaczynski's party had support from about 29 percent of eligible voters.
Analysts say the vote could determine the future direction of Polish ties with Russia and Germany.
Kaczynski has made several anti-German comments in recent days, while Tusk has worked to improve ties with Russia.
A new anticlerical party that is challenging Poland's powerful Roman Catholic Church has become the election's wild card.
Surveys suggest the Palikot Movement could win more than 10 percent of the vote.
Opinion polls show the opposition Democratic Left Alliance (SLD) has support from about 9 percent of voters.
The Polish Peasants' Party (PSL), which is now the junior coalition partner for Civic Platform, was expected to win about 8 percent of the vote.
compiled from agency reports
Link to original story on RFE/RL website
Copyright notice: Copyright (c) 2007-2009. RFE/RL, Inc. Reprinted with the permission of Radio Free Europe/Radio Liberty, 1201 Connecticut Ave., N.W. Washington DC 20036