Pro-Russian party supporters protest in Latvia
| | |
| --- | --- |
| Publisher | Radio Free Europe/Radio Liberty |
| Publication Date | 17 October 2011 |
| Cite as | Radio Free Europe/Radio Liberty, Pro-Russian party supporters protest in Latvia, 17 October 2011, available at: http://www.refworld.org/docid/4eaaa81028.html [accessed 23 January 2018] |
| Disclaimer | This is not a UNHCR publication. UNHCR is not responsible for, nor does it necessarily endorse, its content. Any views expressed are solely those of the author or publisher and do not necessarily reflect those of UNHCR, the United Nations or its Member States. |
October 17, 2011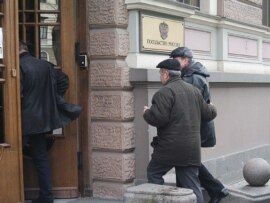 Russian citizens line up outside the Russian Embassy in Riga to vote in the March 2004 Russian presidential election.
Supporters of a party that represents the interests of Latvia's large Russian-speaking minority has gathered outside parliament to protest the exclusion of the party from talks on a new coalition government.
Police said up to 2,000 people protested outside the parliament building in Riga as the legislature held its first session since snap elections on September 17.
The Harmony Center party won one-third of the seats to become the biggest party in parliament at the election, but the three center-right parties planning a coalition excluded it from the talks due to what they said were policy differences.
Harmony Center says it was excluded due to traditional Latvian mistrust of influence from Russia.
However, coalition talks have not gone smoothly, as six members of one of the parties resigned on Ocotber 16, meaning the would-be coalition no longer has a majority.
About one-third of Latvia's 2.2 million people speak Russian as a first language.
compiled from agency reports
Link to original story on RFE/RL website
Copyright notice: Copyright (c) 2007-2009. RFE/RL, Inc. Reprinted with the permission of Radio Free Europe/Radio Liberty, 1201 Connecticut Ave., N.W. Washington DC 20036