Bulgaria PM's party claims presidency win
| | |
| --- | --- |
| Publisher | Radio Free Europe/Radio Liberty |
| Publication Date | 31 October 2011 |
| Cite as | Radio Free Europe/Radio Liberty, Bulgaria PM's party claims presidency win, 31 October 2011, available at: http://www.refworld.org/docid/4ec5042b28.html [accessed 23 January 2018] |
| Disclaimer | This is not a UNHCR publication. UNHCR is not responsible for, nor does it necessarily endorse, its content. Any views expressed are solely those of the author or publisher and do not necessarily reflect those of UNHCR, the United Nations or its Member States. |
October 31, 2011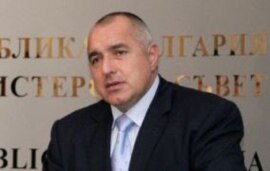 Bulgarian Prime Minister Boiki Borisov
Bulgarian Prime Minister Boiko Borisov has claimed victory for his party's candidate, Rosen Plevneliev, in a presidential run-off with 54 percent support, which would tighten his grip on power before a 2013 parliamentary election.
Alpha Research and Gallup International polls put Plevneliev ahead of Socialist Ivailo Kalfin, with the margin indicating the Socialists are recovering from a crushing defeat in 2009 and will most likely be the main challenger for the ruling GERB party in the next vote.
"We will take the confidence [we received] very responsibly so that in two years' time to achieve the same results," Borisov told a news conference.
After hearing the results earlier in the evening, visibly excited, the newly elected president shook hands and hugged supporters amid victory chants in GEBR's election headquarters.
"From now on you can expect our claim for modern governance and for speeding up Bulgaria's European development," Plevneliev said after Borisov gave the floor "to the new president."
Plevneliev's winning the highly ceremonial presidential role would remove the possibility of government-initiated legislation or appointments being vetoed by Socialist President Georgi Parvanov, who has often criticized the cabinet.
Reuters
Link to original story on RFE/RL website
Copyright notice: Copyright (c) 2007-2009. RFE/RL, Inc. Reprinted with the permission of Radio Free Europe/Radio Liberty, 1201 Connecticut Ave., N.W. Washington DC 20036