USA: Kerry calls use of chemical weapons in Syria a 'moral obscenity'
| | |
| --- | --- |
| Publisher | Radio Free Europe/Radio Liberty |
| Publication Date | 26 August 2013 |
| Cite as | Radio Free Europe/Radio Liberty, USA: Kerry calls use of chemical weapons in Syria a 'moral obscenity', 26 August 2013, available at: http://www.refworld.org/docid/521f46d714.html [accessed 17 December 2017] |
| Disclaimer | This is not a UNHCR publication. UNHCR is not responsible for, nor does it necessarily endorse, its content. Any views expressed are solely those of the author or publisher and do not necessarily reflect those of UNHCR, the United Nations or its Member States. |
Last updated (GMT/UTC): 26.08.2013 19:09
By RFE/RL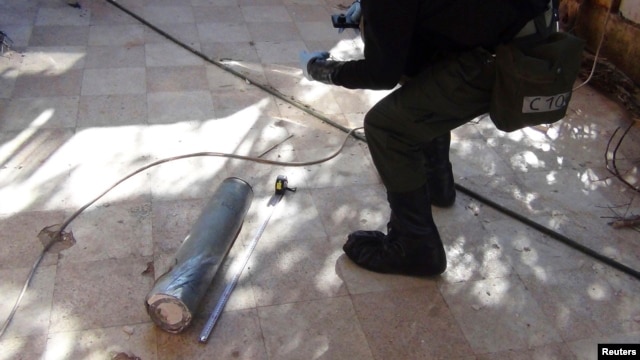 A UN chemical weapons expert gathers evidence at one of the sites of an alleged poison-gas attack in the southwestern Damascus suburb of Moadamyeh on August 26.
U.S. Secretary of State John Kerry has said that President Barack Obama wants to hold accountable those who used chemical weapons in Syria last week, calling the attack a "moral obscenity."
"What we saw in Syria last week should shock the conscience of the world. It defies any code of morality," Secretary of State John Kerry said in a televised statement.
Kerry, speaking in Washington, said the U.S. administration has additional evidence, including videos and accounts from the ground, indicating "that chemical weapons were used in Syria," but said that information is still being processed.
However, Kerry added, "We know that the Syrian regime maintains custody of these chemical weapons."
Kerry spoke on the same day that a team of UN weapons inspectors visited the site of an alleged chemical weapons attack in a western suburb of Damascus that reportedly killed more than 300 people on August 21.
Syrian President Bashar al-Assad has dismissed the allegations as "politically motivated" and "nonsense."
"They visited two hospitals, they interviewed witnesses, survivors, and doctors. And they also collected some samples," Ban said. "They are now returning to Damascus and I'll have to wait a bit more to get the first view [from chief investigator] Dr. Sellstrom."
The United Nations earlier said one of the vehicles of the inspection team was "deliberately shot at multiple times by unidentified snipers" en route to the suburb of Moadamyeh. No injuries were reported.
Syrian state TV said "terrorists" fired at the UN inspectors, while a rebel representative said a pro-government militia was behind the sniping.
Ban said an official complaint has been lodged with both the Syrian government and the opposition representatives.
"In the meantime, I have instructed [the UN High Representative for Disarmament] Angela Kane to register a strong complaint to the Syrian government and the authorities of the opposition forces so that this will never happen and the safety and security of the investigation teams will be secured from tomorrow," Ban said. "And I am awaiting a full report."
Meanwhile, Russian Foreign Minister Sergei Lavrov said in Moscow that Western nations calling for military action against Syria have no proof the Syrian government is behind the chemical attacks.
He said any military action without UN approval would be a "grave violation of international law."
He added that Russia will "not go to war with anyone" in case of Western military intervention in Syria.
U.S. Defense Secretary Chuck Hagel said that the United States is considering all options in the wake of the alleged chemical attack.
Hagel, speaking while on a visit to Indonesia, also said that "if there is any action taken, it will be in concert with the international community and within the framework of legal justification."
Meanwhile, the U.S. State Department has postponed a meeting scheduled for August 28 in The Hague between senior diplomats from the United States and Russia due to "ongoing consultations" over the chemical weapons attack in Syria.
The meeting was to have discussed plans for an international peace conference to end the civil war in Syria.
With reporting by Reuters and AFP
Link to original story on RFE/RL website
Copyright notice: Copyright (c) 2007-2009. RFE/RL, Inc. Reprinted with the permission of Radio Free Europe/Radio Liberty, 1201 Connecticut Ave., N.W. Washington DC 20036