Tunisian government vows changes after slaying
| | |
| --- | --- |
| Publisher | Radio Free Europe/Radio Liberty |
| Publication Date | 7 February 2013 |
| Cite as | Radio Free Europe/Radio Liberty, Tunisian government vows changes after slaying, 7 February 2013, available at: http://www.refworld.org/docid/512235c3c.html [accessed 17 January 2018] |
| Disclaimer | This is not a UNHCR publication. UNHCR is not responsible for, nor does it necessarily endorse, its content. Any views expressed are solely those of the author or publisher and do not necessarily reflect those of UNHCR, the United Nations or its Member States. |
February 07, 2013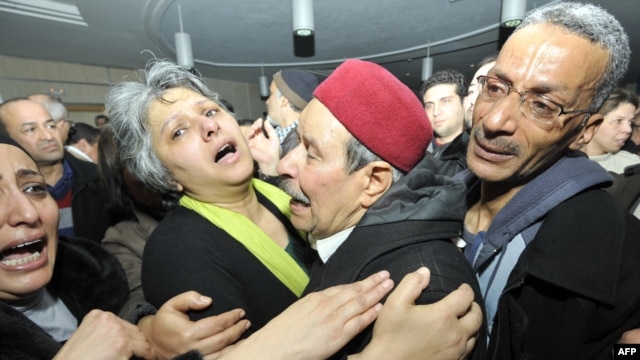 Basma Khalfaoui Belaid, wife of assassinated Tunisian opposition leader and outspoken government critic Chokri Belaid, mourns with Chokri's father after his killing in Tunis on February 6.
The Tunisian prime minister has announced he will dissolve the government following the assassination of a top opposition leader.
Prime Minister Hamadi Jebali said he would form a new government of technocrats to guide the country to elections "as soon as possible."
The killing on February 6 of leftist leader Chokri Belaid sparked protests in Tunis and elsewhere including Sidi Bouzid, the birthplace of the Jasmine Revolution that toppled Zine el-Abidine ben Ali in January 2011.
Since the uprising, Tunisia's new leaders have faced many protests over economic hardship and political ideas.
Belaid had been critical of the moderate Islamist party, Ennahda, that dominates the government.
Ennahda leader Rached Ghannouchi denied any involvement by his party in the killing.
In Washington, the State Department condemned the assassination.
French President Francois Hollande also expressed concern over the killing.
Based on reporting by AP and Reuters
Link to original story on RFE/RL website
Copyright notice: Copyright (c) 2007-2009. RFE/RL, Inc. Reprinted with the permission of Radio Free Europe/Radio Liberty, 1201 Connecticut Ave., N.W. Washington DC 20036