Kazakh fugitive's wife, daughter back in Rome after controversial deportation
| | |
| --- | --- |
| Publisher | Radio Free Europe/Radio Liberty |
| Publication Date | 27 December 2013 |
| Cite as | Radio Free Europe/Radio Liberty, Kazakh fugitive's wife, daughter back in Rome after controversial deportation, 27 December 2013, available at: http://www.refworld.org/docid/52e65a575.html [accessed 22 January 2018] |
| Disclaimer | This is not a UNHCR publication. UNHCR is not responsible for, nor does it necessarily endorse, its content. Any views expressed are solely those of the author or publisher and do not necessarily reflect those of UNHCR, the United Nations or its Member States. |
December 27, 2013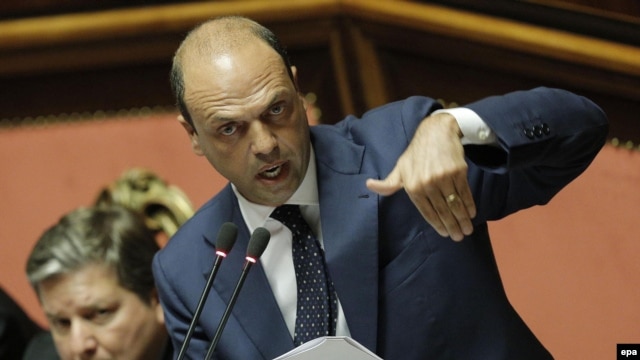 Italian Interior Minister Angelino Alfano told parliament afterward in July that no government minister had advance warning of the deportation of Mukhtar Ablyazov's wife and daughter to Kazakhstan.
The wife of fugitive Kazakh banker Mukhtar Ablyazov has arrived in Italy with her daughter seven months after they were improperly deported back to Kazakhstan in a case that fueled tensions in Italy's fragile government.
Alma Shalabaeva and her 6-year-old daughter met with Foreign Minister Emma Bonino after arriving in Rome on December 27.
Bonino helped ensure their return to Italy after the Kazakh government earlier this week granted them freedom to travel.
Shalabaeva told journalists that she hadn't decided if she would remain in Italy and that she looked forward to being reunited with her husband.
Ablyazov is currently under arrest in France facing extradition requests from Russia, Ukraine, and Kazakhstan.
Ablyazov is accused of having stolen billions of dollars while leading the Kazakh BTA Bank.
Ablyazov insists the accusations against him are politically motivated.
Based on reporting by AFP and AP
Link to original story on RFE/RL website
Copyright notice: Copyright (c) 2007-2009. RFE/RL, Inc. Reprinted with the permission of Radio Free Europe/Radio Liberty, 1201 Connecticut Ave., N.W. Washington DC 20036