Tunisian court orders extradition of ex-Libyan PM
| | |
| --- | --- |
| Publisher | Radio Free Europe/Radio Liberty |
| Publication Date | 8 November 2011 |
| Cite as | Radio Free Europe/Radio Liberty, Tunisian court orders extradition of ex-Libyan PM, 8 November 2011, available at: http://www.refworld.org/docid/4ec5045cc.html [accessed 24 January 2018] |
| Disclaimer | This is not a UNHCR publication. UNHCR is not responsible for, nor does it necessarily endorse, its content. Any views expressed are solely those of the author or publisher and do not necessarily reflect those of UNHCR, the United Nations or its Member States. |
November 08, 2011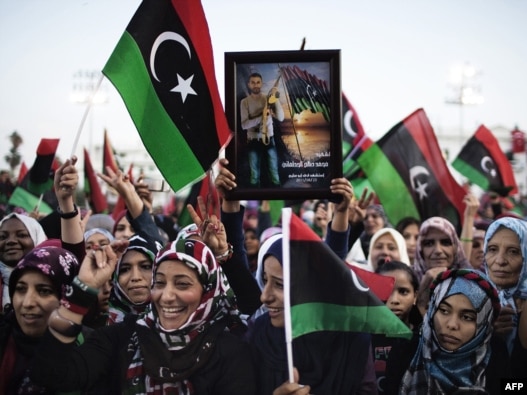 Women wave Libya's post-Qaddafi flag during celebrations in the streets of Tripoli after news of Muammar Qaddafi's capture and death on October 20.
A Tunisian appeals court has ruled that Al-Baghdadi Ali al-Mahmoudi, prime minister under former Libyan leader Muammar Qaddafi, will be extradited to Libya to be tried.
Al-Mahmoudi's lawyer told Reuters news agency that "it's an unfair decision, a political decision."
He said that if any harm comes to him in Libya, the Tunisian justice system will be a party to that.
Al-Mahmoudi fled to Tunisia from Libya during the uprising that eventually toppled Qaddafi.
compiled from Reuters reports
Link to original story on RFE/RL website
Copyright notice: Copyright (c) 2007-2009. RFE/RL, Inc. Reprinted with the permission of Radio Free Europe/Radio Liberty, 1201 Connecticut Ave., N.W. Washington DC 20036