Tunisian Islamist leader seeks calm after unrest
| | |
| --- | --- |
| Publisher | Radio Free Europe/Radio Liberty |
| Publication Date | 29 October 2011 |
| Cite as | Radio Free Europe/Radio Liberty, Tunisian Islamist leader seeks calm after unrest, 29 October 2011, available at: http://www.refworld.org/docid/4ec504252.html [accessed 22 January 2018] |
| Disclaimer | This is not a UNHCR publication. UNHCR is not responsible for, nor does it necessarily endorse, its content. Any views expressed are solely those of the author or publisher and do not necessarily reflect those of UNHCR, the United Nations or its Member States. |
October 29, 2011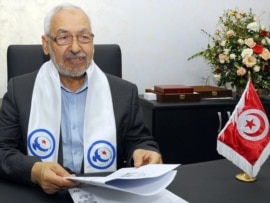 Rachid Ghannouchi, the founder of the Ennahda party
The leader of the moderate Islamist party that won Tunisia's first free elections has called for calm after protests erupted in the town where the country's revolution began.
Authorities called for a curfew in the town of Sidi Bouzid, where supporters of a local candidate rioted after he was docked seats for campaigning violations.
Rachid Ghannouchi, founder of the Ennahda, or Renaissance, party which took 90 of the assembly's 217 seats, said that "We call for calm among the inhabitants of Sidi Bouzid, the cradle of the revolution which must be at the forefront of preserving the public good."
Ghannouchi's long-banned Ennahda party has promised to create a broad-based coalition as it works to form a government to replace interim leaders who have run Tunisia since ousted President Zine El Abidine Ben Ali fled to Saudi Arabia in January.
compiled from agency reports
Link to original story on RFE/RL website
Copyright notice: Copyright (c) 2007-2009. RFE/RL, Inc. Reprinted with the permission of Radio Free Europe/Radio Liberty, 1201 Connecticut Ave., N.W. Washington DC 20036