Moroccans vote on reforms
| | |
| --- | --- |
| Publisher | Radio Free Europe/Radio Liberty |
| Publication Date | 1 July 2011 |
| Cite as | Radio Free Europe/Radio Liberty, Moroccans vote on reforms, 1 July 2011, available at: http://www.refworld.org/docid/4e20437fc.html [accessed 16 December 2017] |
| Disclaimer | This is not a UNHCR publication. UNHCR is not responsible for, nor does it necessarily endorse, its content. Any views expressed are solely those of the author or publisher and do not necessarily reflect those of UNHCR, the United Nations or its Member States. |
July 01, 2011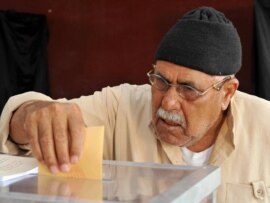 A man casts his vote at a polling station in Sale.
Moroccans go to the polls today to vote on a series of constitutional amendments and reforms.
The proposals, put forward by King Mohammed VI, would give the prime minister and parliament more power. They also would reinforce the independence of the judiciary, boost efforts to tackle corruption, guarantee freedom of expression and gender rights, and make Berber an official language.
The king is widely expected to win the vote, though low turnout could spark demands for bolder changes.
The vote – the first constitutional referendum under the king's 12-year rule – comes in response to protests inspired by the Arab uprisings that ousted leaders in Tunisia and Egypt.
King Mohammed, 47, acceded to the throne in 1999 following the death of his father Hassan II, and now heads the Arab world's longest-serving dynasty.
compiled from agency reports
Link to original story on RFE/RL website
Copyright notice: Copyright (c) 2007-2009. RFE/RL, Inc. Reprinted with the permission of Radio Free Europe/Radio Liberty, 1201 Connecticut Ave., N.W. Washington DC 20036