Rival groups march over king's reforms in Morocco
| | |
| --- | --- |
| Publisher | Radio Free Europe/Radio Liberty |
| Publication Date | 27 June 2011 |
| Cite as | Radio Free Europe/Radio Liberty, Rival groups march over king's reforms in Morocco, 27 June 2011, available at: http://www.refworld.org/docid/4e0b2e4130.html [accessed 21 January 2018] |
| Disclaimer | This is not a UNHCR publication. UNHCR is not responsible for, nor does it necessarily endorse, its content. Any views expressed are solely those of the author or publisher and do not necessarily reflect those of UNHCR, the United Nations or its Member States. |
June 27, 2011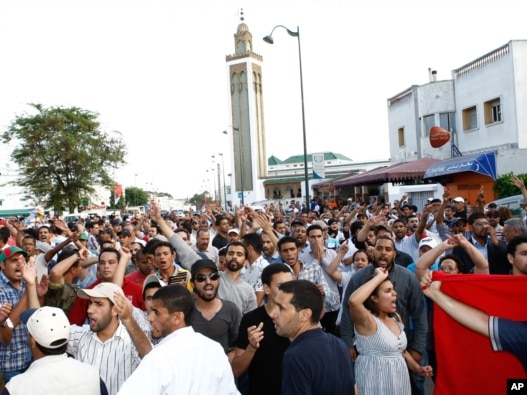 Antigovernment protesters demand constitutional reforms during a rally in Rabat on June 19.
Thousands of rival demonstrators marched through cities in Morocco on June 26 over constitutional reforms proposed by King Mohammed after unrest inspired by "Arab Spring" uprisings in the Arab world.
Critics of the reforms say they do not go far enough to reduce his powers.
The march against the monarch's measures was the latest in a wave of protests in the North African state and comes days before a July 1 referendum on the reform plan.
"We reject the offers made [by the king]. They keep the essence of authority in the hands of a nonelected person who will not be subject to any form of accountability," said Hamid, a jobless 38-year-old among 7,000 protesters who marched through a working class suburb of Casablanca, Morocco's largest city.
Aziz Yaakoubi, a member of the "February 20" pro-democracy street movement named after its founding date, said two of the protesters were injured after being pelted with stones by a group of rival demonstrators in favor of the king's reform.
A smaller rally of about 2,000 people opposed to the king's proposals marched through the capital, Rabat, separated from rival marchers by dozens of baton-wielding riot police.
Reuters
Link to original story on RFE/RL website
Copyright notice: Copyright (c) 2007-2009. RFE/RL, Inc. Reprinted with the permission of Radio Free Europe/Radio Liberty, 1201 Connecticut Ave., N.W. Washington DC 20036