Greek protesters challenge government austerity plan
| | |
| --- | --- |
| Publisher | Radio Free Europe/Radio Liberty |
| Publication Date | 1 May 2010 |
| Cite as | Radio Free Europe/Radio Liberty, Greek protesters challenge government austerity plan, 1 May 2010, available at: http://www.refworld.org/docid/4bfcfb281c.html [accessed 23 October 2017] |
| Disclaimer | This is not a UNHCR publication. UNHCR is not responsible for, nor does it necessarily endorse, its content. Any views expressed are solely those of the author or publisher and do not necessarily reflect those of UNHCR, the United Nations or its Member States. |
May 01, 2010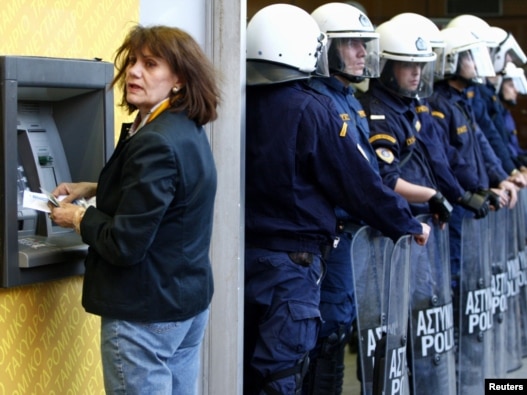 A woman makes a transaction at an ATM during a rally against austerity measures outside the Finance Ministry in Athens on April 29.
Thousands of protesters have gathered in central Athens to rally against austerity measures the government plans to deal with the country's debt crisis.
Prime Minister George Papandreou has said new cuts and tax increases are inevitable is the country is to avoid default.
Greece, the European Union, and the International Monetary Fund (IMF) are expected to complete talks this weekend over the austerity measures Athens needs to implement as a condition for a rescue package.
The EU-IMF aid package would provide 45 billion euros ($60 billion) in loans this year and up to a reported 120 billion euros over three years.
Deputy Prime Minister Theodoros Pangalos said today that the austerity measures the government was likely to implement as part of a the deal would be enough to help avert default on the country's debts,
The European Commission said negotiations on the loan package should be wrapped up by today, and a spokesman said eurozone finance ministers would meet to approve it on May 2.
The bailout is deeply unpopular in Greece because of the harsh conditions protesters say it will impose on ordinary people.
Earlier this week, police battled protesters in downtown Athens, and the country is bracing for a wave of work stoppages and strikes in the coming days, including a planned general strike on May 5.
According to a poll released on April 30 by the newspaper "Proto Thema," more than half of Greeks say they will take to the streets if the government agrees to the new austerity measures.
compiled from agency reports
Link to original story on RFE/RL website
Copyright notice: Copyright (c) 2007-2009. RFE/RL, Inc. Reprinted with the permission of Radio Free Europe/Radio Liberty, 1201 Connecticut Ave., N.W. Washington DC 20036