Egypt says Russia no replacement for U.S.
| | |
| --- | --- |
| Publisher | Radio Free Europe/Radio Liberty |
| Publication Date | 14 November 2013 |
| Cite as | Radio Free Europe/Radio Liberty, Egypt says Russia no replacement for U.S., 14 November 2013, available at: http://www.refworld.org/docid/528b691414.html [accessed 18 February 2018] |
| Disclaimer | This is not a UNHCR publication. UNHCR is not responsible for, nor does it necessarily endorse, its content. Any views expressed are solely those of the author or publisher and do not necessarily reflect those of UNHCR, the United Nations or its Member States. |
November 14, 2013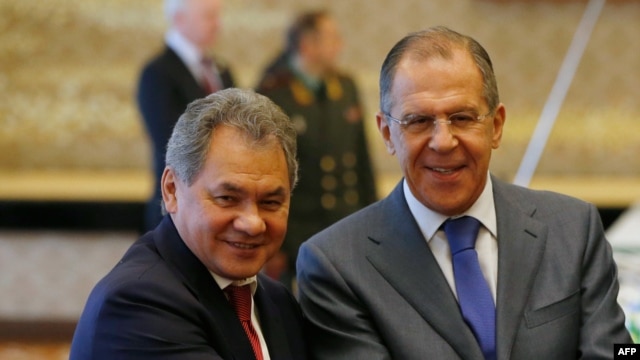 Russian Foreign Minister Sergey Lavrov (right) and Defence Minister Sergei Shoigu (file photo)
Egypt's foreign minister said Cairo is not looking for a new ally to replace the United States after talks with a high-level Russian delegation on November 14.
Nabil Fahmy said the meeting with Russian Foreign Minister Sergei Lavrov and Defense Minister Sergei Shoigu is an "activation" of existing ties with Moscow. He said Egypt seeks cooperation with Moscow "in multiple fields" because of Russia's "international significance."
Lavrov called the meeting "historic" and said Moscow wants a "stable Egypt with a prosperous economy and an efficient political system."
Interfax quoted an official at Russia's Rosoboron arms exporter as saying there are no plans to sign big military contracts during the Cairo talks.
U.S.-Egyptian relations were strained after the military's ouster of President Muhammad Morsi in July, and Washington cut part of its $1.3 billion in military aid to Egypt.
Based on reporting by AP and Interfax
Link to original story on RFE/RL website
Copyright notice: Copyright (c) 2007-2009. RFE/RL, Inc. Reprinted with the permission of Radio Free Europe/Radio Liberty, 1201 Connecticut Ave., N.W. Washington DC 20036