Dutch take Russians to court over detained activists
| | |
| --- | --- |
| Publisher | Radio Free Europe/Radio Liberty |
| Publication Date | 6 November 2013 |
| Cite as | Radio Free Europe/Radio Liberty, Dutch take Russians to court over detained activists, 6 November 2013, available at: http://www.refworld.org/docid/528b68a35.html [accessed 15 December 2017] |
| Disclaimer | This is not a UNHCR publication. UNHCR is not responsible for, nor does it necessarily endorse, its content. Any views expressed are solely those of the author or publisher and do not necessarily reflect those of UNHCR, the United Nations or its Member States. |
November 06, 2013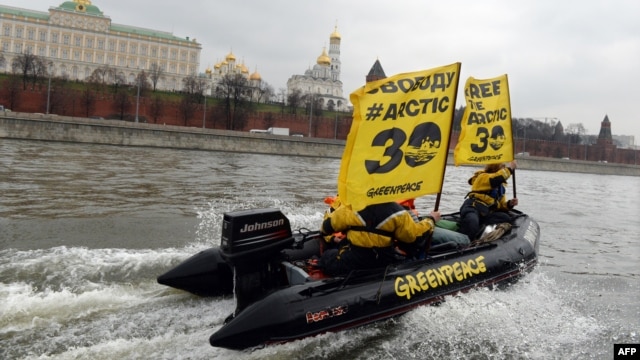 Greenpeace activists hold flags reading "Free the Arctic 30" as they go past the Kremlin by boat.
An international maritime court has begun hearing a Dutch complaint over Russia's detention of a Greenpeace protest ship and its 30 crew members.
The Netherlands complained at the International Tribunal for the Law of the Sea (ITLOS) in Hamburg, Germany, that Russia had no right to board the Dutch-flagged "Arctic Sunrise" carrying the activists in September since it was in international waters.
Russia has told the court it does not accept the Netherlands' case and will not participate in the proceedings.
A representative for the Netherlands, Liesbeth Lijnzaad, urged the court to proceed with the case despite Russia's absence.
"We have given our view of the case and it's now for the judges to decide," she said. "We have full confidence in the judges. We trust that they will give us a well-considered, well-reasoned decision in this case, which has a great amount of urgency."
Lijnzaad told the court Russia had "violated the human rights" of the activists who tried to climb onto Russia's first offshore Arctic oil rig in September, detaining them for seven weeks "without grounds."
ITLOS magistrate Philippe Gautier presented the Dutch demands before the court . He said they were to enable the ship to be resupplied to leave its place of detention and to release the crew members and allow them to leave the Russian Federation.
Greenpeace says that oil drilling in the Arctic is dangerous and risks destroying the region's sensitive environment.
Ahead of the hearing, around a dozen Greenpeace activists rallied in front of court.
Kumi Naidoo, executive director of Greenpeace International, told the media there were "enough grounds for an immediate release" of the 30 detained environmentalists, who face prison terms in Russia on hooliganism charges. However, Naidoo said Greenpeace does not consider itself "above the law."
On November 5, Greenpeace activists navigated a flotilla of rubber boats down the Moskva, the river that flows through Moscow, demanding freedom for the so-called "Arctic 30."
The Hamburg court is expected to rule within two weeks
With reporting by Reuters, dpa, AFP, AP, and Interfax
Link to original story on RFE/RL website
Copyright notice: Copyright (c) 2007-2009. RFE/RL, Inc. Reprinted with the permission of Radio Free Europe/Radio Liberty, 1201 Connecticut Ave., N.W. Washington DC 20036