Gunmen, car bomb kill Egyptian soldiers in separate attacks
| | |
| --- | --- |
| Publisher | Radio Free Europe/Radio Liberty |
| Publication Date | 7 October 2013 |
| Cite as | Radio Free Europe/Radio Liberty, Gunmen, car bomb kill Egyptian soldiers in separate attacks, 7 October 2013, available at: http://www.refworld.org/docid/5261046911.html [accessed 24 November 2017] |
| Disclaimer | This is not a UNHCR publication. UNHCR is not responsible for, nor does it necessarily endorse, its content. Any views expressed are solely those of the author or publisher and do not necessarily reflect those of UNHCR, the United Nations or its Member States. |
October 07, 2013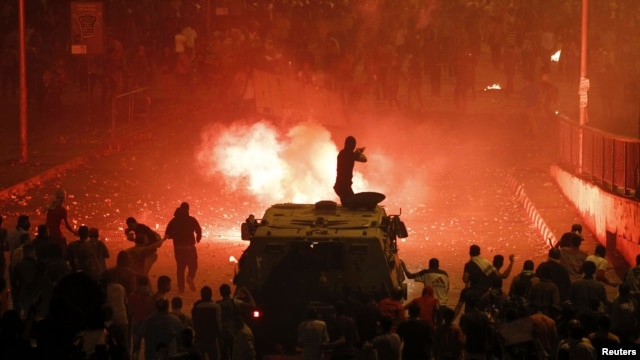 A riot police officer fires rubber bullets at members of the Muslim Brotherhood and its supporters along on Ramsis Square, Cairo, on October 6. Hundreds of people have been killed in Egypt since the army toppled Morsi on July 3 following massive street protests against his rule.
Egyptian security officials say gunmen killed five Egyptian soldiers near the Suez Canal city of Ismailia on October 7.
The officials said the gunmen opened fire on the soldiers while they were sitting in a car at a checkpoint.
The attack occurred north of the city, where suspected militants have repeatedly targeted security forces in recent weeks.
In the capital, Cairo, unknown assailants fired rocket-propelled grenades at communication satellite dishes in Cairo, damaging one.
Meanwhile, a powerful car bomb hit a security forces' compound in the town of al-Tour in Sinai on October 7, killing at least two people and injuring 48.
The military has been conducting an extensive operation in the Sinai Peninsula east of the Suez Canal to crack down on Islamist militants, who have killed dozens of soldiers and policemen.
Based on reporting by AFP and Reuters
Link to original story on RFE/RL website
Copyright notice: Copyright (c) 2007-2009. RFE/RL, Inc. Reprinted with the permission of Radio Free Europe/Radio Liberty, 1201 Connecticut Ave., N.W. Washington DC 20036