Ukraine: Crimean Tatars demand their rights be respected
| | |
| --- | --- |
| Publisher | Radio Free Europe/Radio Liberty |
| Publication Date | 10 December 2012 |
| Cite as | Radio Free Europe/Radio Liberty, Ukraine: Crimean Tatars demand their rights be respected, 10 December 2012, available at: http://www.refworld.org/docid/50cb3acb1e.html [accessed 31 May 2016] |
| Disclaimer | This is not a UNHCR publication. UNHCR is not responsible for, nor does it necessarily endorse, its content. Any views expressed are solely those of the author or publisher and do not necessarily reflect those of UNHCR, the United Nations or its Member States. |
December 10, 2012
By RFE/RL's Ukrainian Service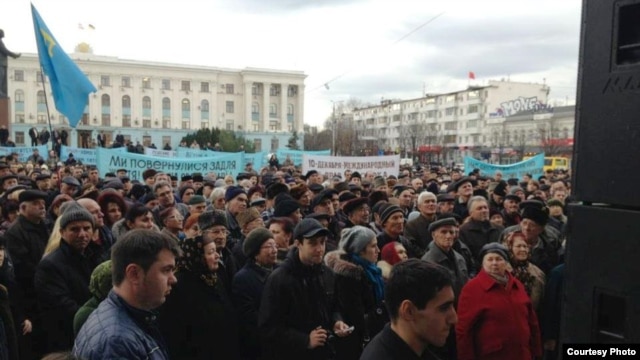 Thousands rallied in Simferopol on December 10 to demand the "revival of Crimean Tatars' rights"
SIMFEROPOL, Ukraine – Some 2,000 Crimean Tatars have gathered in Simferopol, the capital of Ukraine's Autonomous Republic of Crimea, to demand that their rights be "revived."
In a rally, timed to coincide with the international Human Rights Day, participants called on Ukrainian authorities to support the idea of organizing an international forum in 2013 on the "revival of Crimean Tatars' rights" in Ukraine.
The Crimean Tatars' National Congress (Mejlis) proposed the idea in 2010 and it has been supported by member states of the Organization for Security and Cooperation in Europe (OSCE).
Soviet dictator Josef Stalin ordered the mass deportation of 180,000 Crimean Tatars from Crimea to Central Asia and Siberia in 1944.
Crimean Tatars were rehabilitated by the Kremlin in 1957.
The majority of them say they still have no proper housing after returning to Crimea in late 1980s and 1990s.
Link to original story on RFE/RL website
Copyright notice: Copyright (c) 2007-2009. RFE/RL, Inc. Reprinted with the permission of Radio Free Europe/Radio Liberty, 1201 Connecticut Ave., N.W. Washington DC 20036