Nicaraguans voting in disputed presidential election
| | |
| --- | --- |
| Publisher | Radio Free Europe/Radio Liberty |
| Publication Date | 6 November 2011 |
| Cite as | Radio Free Europe/Radio Liberty, Nicaraguans voting in disputed presidential election, 6 November 2011, available at: http://www.refworld.org/docid/4ec5044f23.html [accessed 30 May 2016] |
| Disclaimer | This is not a UNHCR publication. UNHCR is not responsible for, nor does it necessarily endorse, its content. Any views expressed are solely those of the author or publisher and do not necessarily reflect those of UNHCR, the United Nations or its Member States. |
November 06, 2011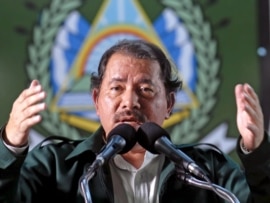 Nicaraguan President Daniel Ortega
Nicaraguans are voting today in a presidential election that has already been condemned as unfair by some opposition candidates.
Leftist President Daniel Ortega, head of the Sandinista National Liberation Front, is seeking a third term in office, and pre-election opinion polls have shown him winning as much as 48 percent of the vote, well above his right-wing challengers.
However, the opposition has condemned the former rebel chief's candidacy, which was permitted only after the Supreme Court in 2009 lifted a constitutional ban on consecutive reelections.
Opposition supporters have also raised allegations of mismanagement of the electoral process and corruption.
The head of the European Union's observer mission, Luis Yanez of Spain, has expressed concern over allegations of collusion between Ortega and officials of the national electoral body, saying this raises questions about the vote's credibility and fairness.
"Our concern is that this affects the normal and free development of a transparent process," Yanez said. "We often think that this is solved – then hours later we see things are stuck, obstacles and impediments continue and they become part of the development process. We have serious concerns."
More than 3.4 million Nicaraguans are eligible to vote in the elections for president, vice-president, 90 deputies to Nicaragua's Congress, and 20 to the Central American Parliament.
compiled from agency reports
Link to original story on RFE/RL website
Copyright notice: Copyright (c) 2007-2009. RFE/RL, Inc. Reprinted with the permission of Radio Free Europe/Radio Liberty, 1201 Connecticut Ave., N.W. Washington DC 20036