Libyan transitional forces blockade Sirte as NATO continues air strikes
| | |
| --- | --- |
| Publisher | Radio Free Europe/Radio Liberty |
| Publication Date | 25 September 2011 |
| Cite as | Radio Free Europe/Radio Liberty, Libyan transitional forces blockade Sirte as NATO continues air strikes, 25 September 2011, available at: http://www.refworld.org/docid/4e89740923.html [accessed 29 May 2016] |
| Disclaimer | This is not a UNHCR publication. UNHCR is not responsible for, nor does it necessarily endorse, its content. Any views expressed are solely those of the author or publisher and do not necessarily reflect those of UNHCR, the United Nations or its Member States. |
September 25, 2011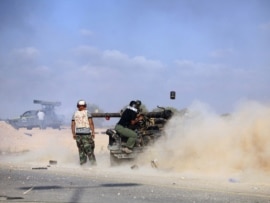 NTC fighters shoot artillery at a pro-Qaddafi position in Sirte on September 18.
Forces fighting on behalf of Libya's interim rulers say they are intensifying a blockade around Muammar Qaddafi's hometown of Sirte in an attempt to wear down loyalist troops inside the city.
The forces loyal to the National Transitional Council (NTC) have set up roadblocks and sniper positions around Sirte, after heavy fighting inside the town on September 24 left seven of their fighters dead and failed to dislodge Qaddafi's troops.
NATO warplanes have also carried out several air strikes inside Sirte this morning after reports that Qaddafi forces had endangered "hundreds of families" there.
In a statement, NATO cited reports of executions, hostage-taking, and calculated targeting of individuals, families, and communities in the city of 75,000.
A Qaddafi spokesman has accused NATO of killing hundreds of civilians with its air strikes on Sirte.
Meanwhile, in related news, officials from Libya's National Transition Council (NTC) says a mass grave with more than 1,200 bodies has been found near the Abu Salim prison in the southern part of the capital Tripoli.
The NTC said on September 25 that the bodies were buried there after the 1996 riot at the Abu Salim prison, where opponents of Muammar Qaddafi's regime were often detained.
compiled from agency reports
Link to original story on RFE/RL website
Copyright notice: Copyright (c) 2007-2009. RFE/RL, Inc. Reprinted with the permission of Radio Free Europe/Radio Liberty, 1201 Connecticut Ave., N.W. Washington DC 20036