Turks approve constitutional amendments
| | |
| --- | --- |
| Publisher | Radio Free Europe/Radio Liberty |
| Publication Date | 13 September 2010 |
| Cite as | Radio Free Europe/Radio Liberty, Turks approve constitutional amendments, 13 September 2010, available at: http://www.refworld.org/docid/4cb83e77c.html [accessed 27 May 2016] |
| Disclaimer | This is not a UNHCR publication. UNHCR is not responsible for, nor does it necessarily endorse, its content. Any views expressed are solely those of the author or publisher and do not necessarily reflect those of UNHCR, the United Nations or its Member States. |
Last updated (GMT/UTC): 13.09.2010 05:29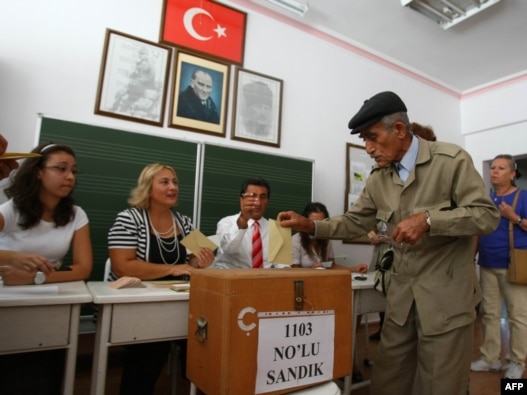 A man casts his referendum vote in Ankara.
Turkey's Prime Minister Recep Tayyip Erdogan has said voters have approved a referendum on changing the constitution, which critics say will give the ruling party more power over the judiciary.
Erdogan said about 58 percent of Turkish voters had approved the changes to the current constitution, which was ratified under military rule in 1982. He also said that turnout was between 77 and 78 percent.
Erdogan's ruling Justice and Development Party (AKP) – which has roots in political Islam – insists amendments to the constitution will strengthen democracy in Turkey and bring it closer to European Union norms.
The September 12 referendum included 26 amendments to the Turkish Constitution. Most of the changes are small and seen by many as technical alterations that are difficult to comprehend.
But proposed changes to the makeup of the Constitutional Court and the High Boards of Judges and Prosecutors, a state body charged with appointing magistrates, have raised fears over the future independence of the judiciary.
Turkey's Constitutional Court and other high courts have created problems for Erdogan's ruling party since it came to power in 2002.
In 2008, the AKP narrowly avoided being banned for undermining the country's secular system. Courts have also blocked other AKP-backed legislation, including a bill that would overthrow a ban on the Islamic hijab in universities.
Erdogan once called the senior judiciary "shackles on our feet." The AKP, however, denies having any intention of undermining the country's traditional secularism.
After casting his vote in Ankara, President Abdullah Gul, a political ally of Ergdogan, said: "All possible outcomes must be treated with equal respect and maturity."
Erdogan voted in Istanbul and said the referendum was an important step for Turkish democracy.
Public Opinion Divided
The proposed amendments would also make the one-time powerful military – another bastion of secularist forces – more answerable to civilian courts.
RFE/RL correspondent Robert Tait, who is Istanbul, says that public opinion is deeply divided.
"Many people are angry at some of the rhetoric coming from Prime Minister Erdogan, who has said that people who vote 'no' are effectively supporting a military coup that took place 30 years ago today. And that has angered a lot of people," Tait said.
"Many others whom I spoke to don't really understand what is at stake. They tend to base their opinion on what they think of Erdogan as a person. The constitutional-change package which is on offer is just too complicated for many people to understand."
Somnur Vardar, a female Turkish voter speaking in Istanbul to RFE/RL, said, "I'm not convinced about the new constitution, about the new paragraphs, which are being proposed. There are no paragraphs about Kurdish rights, there are no paragraphs about minorities' rights, there are no paragraphs about the Kurdish language, and also about human rights. There are no paragraphs about abolishing the mandatory religious classes."
Support for the referendum will be seen by many as a vote of confidence for the AKP before parliamentary elections in July 2011, when the ruling party will seek its third consecutive term in power.
Since coming to power, the party has pushed for economic reforms, leading to growth and relative stability in the country in recent years. It has also brought certain changes in Turkey's foreign policy, improving ties with Iran, Iraq, and Syria, while somewhat cooling the relationship with Ankara's longtime ally Israel.
The EU's executive European Commission said the reforms "are a step in the right direction," but before the vote it had criticized the Turkish government for stifling public debate over the amendments.
U.S. President Barack Obama said the high voter turnout reflected "the vibrancy of Turkey's democracy."
All major opposition parties were urging people to vote "no," while the pro-Kurdish Peace and Democracy party boycotted the referendum.
written by Farangis Najibullah, with contributions from Robert Tait in Istanbul and agency reports
Link to original story on RFE/RL website
Copyright notice: Copyright (c) 2007-2009. RFE/RL, Inc. Reprinted with the permission of Radio Free Europe/Radio Liberty, 1201 Connecticut Ave., N.W. Washington DC 20036