Iraq's leading Shi'ite blocs agree to form parliamentary coalition
| | |
| --- | --- |
| Publisher | Radio Free Europe/Radio Liberty |
| Publication Date | 5 May 2010 |
| Cite as | Radio Free Europe/Radio Liberty, Iraq's leading Shi'ite blocs agree to form parliamentary coalition, 5 May 2010, available at: http://www.refworld.org/docid/4bfcfb2cc.html [accessed 24 May 2016] |
| Disclaimer | This is not a UNHCR publication. UNHCR is not responsible for, nor does it necessarily endorse, its content. Any views expressed are solely those of the author or publisher and do not necessarily reflect those of UNHCR, the United Nations or its Member States. |
Last updated (GMT/UTC): 05.05.2010 10:45
By RFE/RL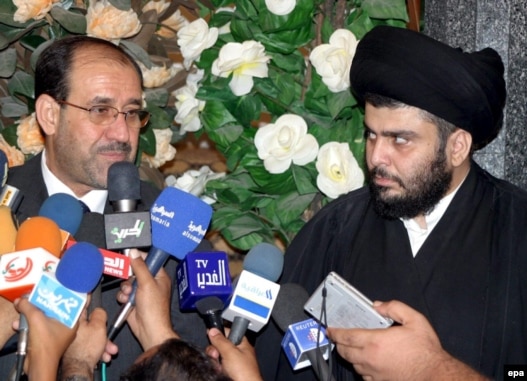 Iraqi Prime Minister Nuri al-Maliki (left) and Shi'ite cleric Muqtada al-Sadr (file photo)
Iraq's two largest Shi'ite electoral blocs say they have formed an alliance that gives them a strong chance of setting up the next government.
The coalition deal between Prime Minister Nuri al-Maliki's State of Law coalition and the conservative Shi'ite Iraqi National Alliance leaves them just four seats short of a parliamentary majority – close enough that the alliance possibly could control a majority after a vote recount for Baghdad is completed in two weeks.
Abd al-Razaq al-Kazemi of the Iraqi National Alliance announced the deal late on May 4 at a press conference in which he was flanked by officials from the State of Law bloc and the movement of radical cleric Muqtada al-Sadr, whose followers make up the strongest faction within the Iraqi National Alliance.
But State of Law official Haidar al-Ibadi, who also is a member of Maliki's Al-Dawah Party, said the two blocs have not yet resolved who they would nominate to lead the government as prime minister. That is a serious hurdle that could prevent future cooperation between the would-be coalition partners.
'Serve The People'
Baghad resident Abu Maher today welcomed news of the coalition deal as a way to break a political deadlock that has prevented any group from forming a new government.
"Congratulation on this initiative, God willing, the government will be formed as soon as possible," Maher said. "Regardless of the name of the next prime minister, we want him to serve the people."
Another Baghdad resident, Mohsen al-Taie, told Reuters that the new coalition should not discount the views of other blocs that finished strongly in the election.
"If the new coalition takes into consideration the interests of Iraq and seeks to agree with other political blocs that won in the election, I think the new coalition will be able to meet the interests of the country," Taie said.
According to official results of the March 7 vote, State of Law won 89 seats in the new parliament and the Iraqi National Alliance won 70 seats. Their combined 159 seats leave them just four away from the simple majority required to govern.
Meanwhile, Maliki has taken steps to challenge those official results, which showed his coalition just two seats behind the Al-Iraqiyah coalition of former Prime Minister Iyad Allawi.
On May 3, electoral workers began a recount demanded by Maliki of 2.5 million ballots that were cast in Baghdad. That recount alone could alter the official results in Maliki's favor, giving the new coalition a parliamentary majority
Legitimate Response
Farj al-Haidari, the chairman of Iraq's Independent High Electoral Commission, defended the manual recount of all 2.5 million Baghdad votes as a legitimate response to Maliki's legal challenge.
"The Electoral Commission has put its measures in place according to the decision of the review panel," he said. "It was the decision of the review panel that stressed the necessity of conducting the recount in the polling stations in which votes were discarded. And not only in the disputed stations, but in those across all of Baghdad."
The United Nations' special representative to Iraq, Ad Melkert, told journalists on May 3 that the recount appears to have been set up in a "very professional way" and was designed to reassure Iraqi voters that their ballots would be respected. "It's also important that those who have issued complaints now find a way, through the recount, to see whether these complaints are justified," he said.
Meanwhile, a judicial committee tasked with vetting candidates who had ties to Saddam Hussein's regime also has tried to bar many politicians on Allawi's electoral list. Those moves could further shift revised official results in Maliki's favor.
Such an outcome threatens to rekindle sectarian violence at a sensitive time in Iraq as U.S. troops prepare to withdraw from the country.
The bloc of Allawi, a Shi'a who gained widespread Sunni backing by campaigning for an end to sectarian politics, led the election by winning 91 seats in parliament. Many Sunnis celebrated that unexpected victory as confirmation that they still have a role to play in the governance of Iraq.
Sow Instability
Analysts say the formation of a government that excludes them would deepen Sunni disillusionment and sow further instability.
Sunni insurgent groups have shown that they remain capable of staging large-scale attacks in the heart of Baghdad, despite government successes like the recent killing of Al-Qaeda in Iraq's two top leaders.
A spokeswoman for Al-Iraqiyah, Maysun al-Damluji, warned that the coalition deal indicates a return to sectarianism in Iraq. She said the alliance is designed to undermine Al-Iraqiyah. Alluding to neighboring Shi'ite power Iran, Damluji also alleged that the new Shi'ite coalition would carry out the will of a "neighboring country."
If the Baghdad recount and the disqualification of candidates on Allawi's list does not give the new Shi'ite coalition enough seats to control a majority, they would have to consider deals with Kurdish politicians, who have been seen as a key to forming any Iraqi government.
Kurdish politicians have said they would demand tough concessions in exchange for lending their support to any coalition. In particular, they want concessions on the fate of oil-rich Kirkuk – a city in northern Iraq that is claimed by both Arabs and Kurds – and on oil rights for the Kurdish autonomous region in the north.
written by Ron Synovitz, with agency reports
Link to original story on RFE/RL website
Copyright notice: Copyright (c) 2007-2009. RFE/RL, Inc. Reprinted with the permission of Radio Free Europe/Radio Liberty, 1201 Connecticut Ave., N.W. Washington DC 20036