Afghan president sends would-be child suicide bombers home
| | |
| --- | --- |
| Publisher | Radio Free Europe/Radio Liberty |
| Publication Date | 30 August 2011 |
| Cite as | Radio Free Europe/Radio Liberty, Afghan president sends would-be child suicide bombers home, 30 August 2011, available at: http://www.refworld.org/docid/4e6f68365.html [accessed 30 May 2016] |
| Disclaimer | This is not a UNHCR publication. UNHCR is not responsible for, nor does it necessarily endorse, its content. Any views expressed are solely those of the author or publisher and do not necessarily reflect those of UNHCR, the United Nations or its Member States. |
August 30, 2011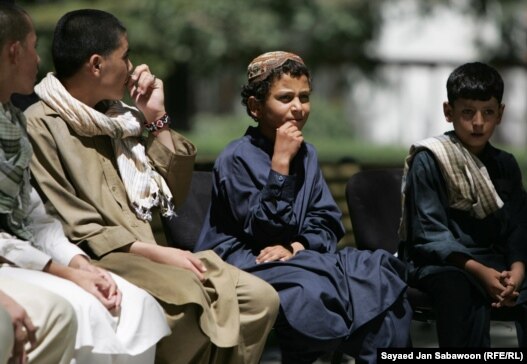 Pardoned would-be child suicide bombers pray during a ceremony attended by Afghan President Hamid Karzai to mark the release of some 20 youths at the Presidential Palace in Kabul.
Afghan President Hamid Karzai has ordered that eight would-be child suicide bombers be sent back to their families.
The group, which contains a 7-year-old, are the youngest among some 20 children who authorities said were detained before conducting suicide attacks across the country.
Karzai, speaking as he marked the Muslim holiday of Eid al-Fitr, said the children had been deceived by the Taliban.
"We repeatedly ask the Taliban and those who have guns on their shoulders to put their guns down and join the reconstruction process of their country," he said, "and not force or deceive the children into destroying their country."
Karzai met the eight children last week in Kabul before ordering that they be sent home.
Officials had said the remaining 12 children, all under 18, would be returned to their homes after education and reintegration programs.
Reuters
Link to original story on RFE/RL website
Copyright notice: Copyright (c) 2007-2009. RFE/RL, Inc. Reprinted with the permission of Radio Free Europe/Radio Liberty, 1201 Connecticut Ave., N.W. Washington DC 20036