Clashes in Pakistan's Swat Valley as displaced start to return
| | |
| --- | --- |
| Publisher | Radio Free Europe/Radio Liberty |
| Publication Date | 15 July 2009 |
| Cite as | Radio Free Europe/Radio Liberty, Clashes in Pakistan's Swat Valley as displaced start to return, 15 July 2009, available at: http://www.refworld.org/docid/4a82b6f82.html [accessed 29 May 2016] |
| Disclaimer | This is not a UNHCR publication. UNHCR is not responsible for, nor does it necessarily endorse, its content. Any views expressed are solely those of the author or publisher and do not necessarily reflect those of UNHCR, the United Nations or its Member States. |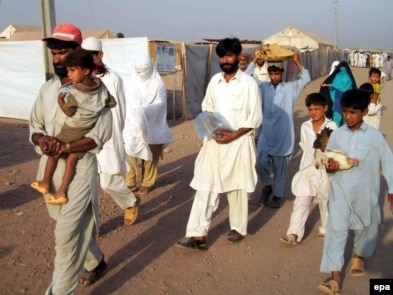 Pakistani refugees prepare to go back to the Swat region.
(RFE/RL) – Fighting is continuing in Pakistan's Swat Valley between government troops and Taliban militants, raising concerns about the return of some 2 million displaced residents that began this week.
Pakistan's Army says it killed six suspected Taliban fighters near the main city of Mingora.
Pakistani military officials say the fighting started when militants attacked an army checkpoint at the town of Kabal overnight. It follows other clashes in the area since July 13 that, according to Pakistan's Army, have left another nine militants dead – the first fatalities of suspected Taliban in the area to be reported in days.
In fact, the army recently declared that most of the Swat area had been cleared of Taliban insurgents after an offensive that began in late April. Pakistani officials say more than 1,700 militants and about 160 security forces have been killed in northwest districts of Pakistan since the campaign began.
The offensive has been strongly backed by U.S. officials, who are eager to see Pakistan eliminate safe havens for militants blamed for attacks on international forces in neighboring Afghanistan.
But no militant leaders were confirmed to be among the casualties – leading to fears that fighters could reemerge as displaced civilians try to return to what is left of their homes.
Islamabad designated July 13 as the first day for more than 2 million people displaced by the offensive to start returning. But the clashes since then have reinforced fears among would-be returnees.
The displaced civilians have been part of one of the biggest human migrations of recent times, stretching Pakistan's resources to the breaking point and prompting a global appeal for humanitarian help.
Patrick Duplat, a lawyer at the U.S.-based advocacy group Refugees International, says Islamabad is moving too quickly to return the residents of Swat and the surrounding area. He warns that the military's definition of a "cleared zone' does not necessarily translate into a safe zone for civilians.
Mohammad Rehman, a 36-year-old who has been staying at a camp in Charsadda, says security concerns initially led his family to leave their home. He says he fears they will be forced to flee again if they return amid tenuous security conditions.
'Suffered Such Disrespect'
But many others say they are desperate to go home after weeks of suffering in stifling tents.
"We have suffered such disrespect that we have not even thought in our dreams. We thought the government had arranged something good in the camps for us. But we had nothing here," says Rehman Ali, who has been staying at the Yar Hussain camp at Swabi since he and his family fled their home.
Many other also said they will be glad to leave the sweltering heat in the dusty tent camps provided by the government.
Umer Khan says he and his family were happy when it became their turn to take government-arranged transportation out of the Yar Hussain camp and back to the cooler climate of the higher-altitude Swat Valley.
"I am very happy because here they don't give us anything. When we go back home, we will get something at least. When we can support ourselves and eat, we will feel better," he said.
Amir Haider Khan Hoti, the chief minister of Northwest Frontier Province, has been assuring returnees this week that the government is working to reestablish a stronger police force and help keep out the Taliban.
Hoti says Pakistani forces have "broken the back" of the terrorists, forcing them on the run in small groups. Warning that the militants may try to return, he has urged people to identify Taliban fighters and inform authorities about their presence so they can be eliminated.
The army says it expects to stay in Swat for another year.
with agency reports
Link to original story on RFE/RL website
Copyright notice: Copyright (c) 2007-2009. RFE/RL, Inc. Reprinted with the permission of Radio Free Europe/Radio Liberty, 1201 Connecticut Ave., N.W. Washington DC 20036