Mayor of North Ossetia's Vladikavkaz shot dead
| | |
| --- | --- |
| Publisher | Radio Free Europe/Radio Liberty |
| Publication Date | 26 November 2008 |
| Cite as | Radio Free Europe/Radio Liberty, Mayor of North Ossetia's Vladikavkaz shot dead, 26 November 2008, available at: http://www.refworld.org/docid/492e71a317.html [accessed 24 May 2016] |
| Disclaimer | This is not a UNHCR publication. UNHCR is not responsible for, nor does it necessarily endorse, its content. Any views expressed are solely those of the author or publisher and do not necessarily reflect those of UNHCR, the United Nations or its Member States. |
Last updated at: 26.11.2008 15:03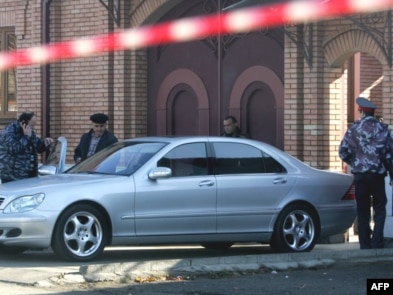 Forensics experts examine the crime scene and car of Vladikavkaz Mayor Vitaly Karayev
MOSCOW (Reuters) – A suspected sniper killed a city mayor in Russia's North Caucasus, the most high-profile murder of an official in years in a region rocked by a violent insurgency.
Vitaly Karayev, mayor of Vladikavkaz, was shot as he left his home and climbed into his silver Mercedes car. A single bullet hole could be seen in the vehicle's rear passenger window, Reuters reporters said at the scene.
Vladikavkaz is capital of the North Ossetia region, which along with the nearby regions of Chechnya, Ingushetia, and Dagestan is the scene of frequent bombings and ambushes by rebel gunmen, some of them linked to militant Islam.
"Today at about 9 a.m. (0600 GMT) ... unknown individuals shot at the mayor of Vladikavkaz, Vitaly Karayev," the investigative committee of the Russian Prosecutor-General's Office said in a statement. "Karayev died in hospital from a wound he sustained to his chest ... Judging by the nature of the shot, it could have been carried out by a sniper."
The statement said prosecutors had opened a murder investigation.
President Dmitry Medvedev, who is on a tour of Latin America, asked law enforcement agencies to take all possible measures to investigate the attack, a Kremlin statement said.
No one has taken responsibility for shooting. North Ossetia's leader, Taimuraz Mamsurov, blamed it on "criminals who will stop at nothing to achieve their aims."
Two weeks ago a suspected suicide bomber attacked a minibus outside a Vladikavkaz market, killing 12 people.
Vitaly Karayev
Volatile Region
North Ossetia is a mainly Christian region which has been caught up in a wave of violence that began with a separatist rebellion in Chechnya in the 1990s.
That uprising has since been largely quelled but unrest has spread to neighboring regions.
Insurgents from Chechnya and Ingushetia have been blamed for the 2004 school siege in Beslan – a North Ossetian town a short drive from Vladikavkaz – in which more than 300 people were killed.
Analysts say the insurgency in the mainly Muslim North Caucasus is driven by a mix of clan rivalry, frustration at widespread poverty and militant Islamist groups who want to overthrow Moscow's rule.
North Ossetia has volatile relations with Ingushetia that stem from an outbreak of sectarian violence in 1992 in which hundreds of people were killed. Prosecutors have said the bus bombing may be linked to that conflict.
In a televised address, regional leader Mamsurov slammed his officials for failing to track down those responsible for the acts of violence in North Ossetia this year.
"A challenge has been thrown down to us," he said. "It is our duty today to give a worthy response to the criminals who will stop at nothing to achieve their aims. We must show no mercy to those who prevent our people living in peace."
North Ossetia lies just across the border from Georgia's breakaway South Ossetia region, which was the focus of a brief war between Moscow and Tbilisi in August.
Copyright notice: Copyright (c) 2007-2009. RFE/RL, Inc. Reprinted with the permission of Radio Free Europe/Radio Liberty, 1201 Connecticut Ave., N.W. Washington DC 20036