Kazakhstan: Authorities search for missing journalist
| | |
| --- | --- |
| Publisher | Radio Free Europe/Radio Liberty |
| Author | Bruce Pannier |
| Publication Date | 20 April 2007 |
| Cite as | Radio Free Europe/Radio Liberty, Kazakhstan: Authorities search for missing journalist, 20 April 2007, available at: http://www.refworld.org/docid/469f5c60c.html [accessed 1 June 2016] |
| Disclaimer | This is not a UNHCR publication. UNHCR is not responsible for, nor does it necessarily endorse, its content. Any views expressed are solely those of the author or publisher and do not necessarily reflect those of UNHCR, the United Nations or its Member States. |
By Bruce Pannier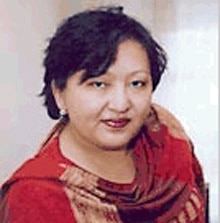 Oralgaisha Omarshanova (file photo) (Courtesy Photo)
April 20, 2007 (RFE/RL) – A journalist investigating deadly violence in southeastern Kazakhstan is still missing three weeks after departing from Kazakhstan's commercial capital, Almaty.
Oralgaisha Omarshanova (also known by the name Zhabagtaikyzy) is a 39-year-old reporter for the Russian-Kazakh weekly newspaper "Law And Justice," based in the Kazakh capital, Astana.
She traveled to the Almaty region at the end of March to cover a story on recent clashes between Kazakhs and ethnic Chechens in the villages of Malovodnoye and Kazatkom. Omarshanova reportedly secured a ride on March 30, but she never arrived and has not been heard from since.
Death Threats
Fellow journalist Mukhit Iskakov told a press conference in Almaty on April 18 that Omarshanova had taken threats against her life seriously.
"Oralgaisha told me that she had received several threats by telephone," he said. "After that, she got a license and bought a Winchester rifle in Qaraganda. She officially registered it in Astana, and then we moved to Almaty together."
Omarshanova had already begun publishing articles about the billiard-room brawl that eventually led to the death of five people and shocked her ethnically diverse country.
Omarshanova's stories were about one of the ethnic-Chechen families involved in those clashes, including their alleged links to organized crime. The articles also alleged that the family had connections to some government officials and businesses.
After her disappearance, friends and relatives searched in vain before turning to others for help.
On-Going Search
Kazakhstan's press freedom organization, Adil Soz, finally made public the news of Omarshanova's disappearance on April 17. Lawmakers have since called on prosecutors, the Interior Ministry, and the National Security Committee to take control of the case and intensify the search.
Kazakh Interior Ministry spokesman Bagdat Kojhakhmetov told RFE/RL's Kazakh Service on April 18 that the search for the missing journalist is under way. But he said it has so far yielded no clues.
"We have been looking for her for many days," Kojhakhmetov said. "We don't have any information on her whereabouts yet. As soon as we have something, we will let the public know."
Adil Soz suggests that Omarshanova is the first journalist to have disappeared in Kazakhstan.
(RFE/RL Kazakh Service Director Merkhat Sharipzhan contributed to this report.)
Copyright notice: Copyright (c) 2007-2009. RFE/RL, Inc. Reprinted with the permission of Radio Free Europe/Radio Liberty, 1201 Connecticut Ave., N.W. Washington DC 20036