Tunisian police use tear gas on Islamist protesters
| | |
| --- | --- |
| Publisher | Radio Free Europe/Radio Liberty |
| Publication Date | 14 October 2011 |
| Cite as | Radio Free Europe/Radio Liberty, Tunisian police use tear gas on Islamist protesters, 14 October 2011, available at: http://www.refworld.org/docid/4eaaa80123.html [accessed 31 May 2016] |
| Disclaimer | This is not a UNHCR publication. UNHCR is not responsible for, nor does it necessarily endorse, its content. Any views expressed are solely those of the author or publisher and do not necessarily reflect those of UNHCR, the United Nations or its Member States. |
October 14, 2011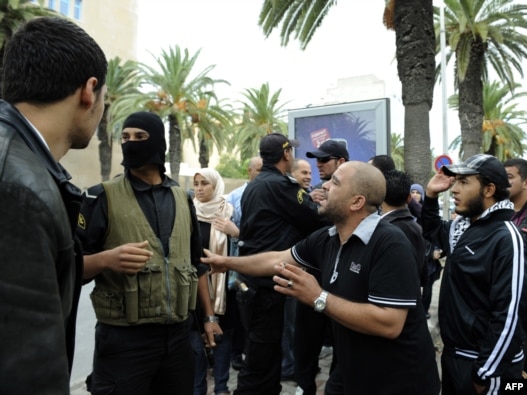 People demonstrate in front of the headquarters of the private TV station Nessma in Tunis on October 9.
Reports from Tunisia say police have fired tear gas at thousands of Islamists demonstrating in the capital, Tunis.
Reuters reported that the protesters, who were demanding the imposition of Islamic law in Tunisia, responded by throwing stones at police.
It said some of the protesters tried to force their way into the prime minister's office.
Another protest took place outside a private television station that has angered Islamists by airing an animated film that critics accuse of blasphemy for including an image of God.
It was the second rally outside the Nessma TV station in a week after it broadcast "Persepolis," a globally acclaimed animated film about life in Tehran following Iran's 1979 revolution.
Tunisia is scheduled to vote on October 23 for a constitutional assembly – the first polls in Tunisia since longtime President Zine el-Abidine Ben Ali was overthrown in an uprising in January.
compiled from agency reports
Link to original story on RFE/RL website
Copyright notice: Copyright (c) 2007-2009. RFE/RL, Inc. Reprinted with the permission of Radio Free Europe/Radio Liberty, 1201 Connecticut Ave., N.W. Washington DC 20036