Thai military to impose curfew
| | |
| --- | --- |
| Publisher | Radio Free Europe/Radio Liberty |
| Publication Date | 16 May 2010 |
| Cite as | Radio Free Europe/Radio Liberty, Thai military to impose curfew, 16 May 2010, available at: http://www.refworld.org/docid/4bfcfb39c.html [accessed 28 May 2016] |
| Disclaimer | This is not a UNHCR publication. UNHCR is not responsible for, nor does it necessarily endorse, its content. Any views expressed are solely those of the author or publisher and do not necessarily reflect those of UNHCR, the United Nations or its Member States. |
May 16, 2010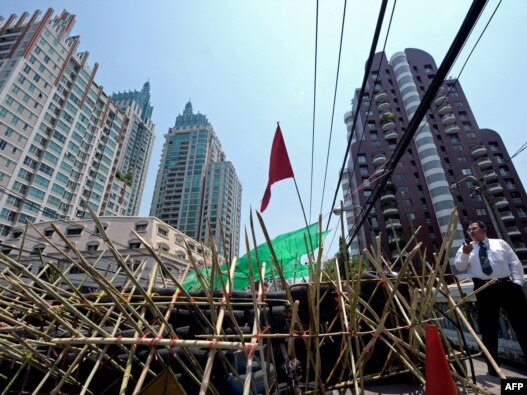 A businessman (right) walks past barricades during an antigovernment protest at the main shopping district of central Bangkok.
Thailand's army says it will impose a curfew on parts of Bangkok as the death toll from several days of violent clashes in the capital rose to at least 25. More than 200 people have been wounded in the unrest.
Thai authorities have issued an ultimatum to antigovernment protesters camped in Bangkok since March, calling on women and the elderly to leave the camp by May 17.
"We have assigned the police, Red Cross, and NGOs to enter the protest site at Ratchaprasong to persuade the people in the area, especially women, children, and old people, to leave," Thai army spokesperson Colonel Sansern Keawkamnerd said
Several hundred protesters are gathering in another part of the city.
Nattawut Saikua, leader of the antigovernment "Red Shirts," said the protesters were willing to enter UN-moderated negotiations to end the stand-off, as long as the government withdrew troops from the streets.
The Red Shirts have occupied a 3-square-kilometer protest zone in one of Bangkok's wealthiest districts. They are demanding that Prime Minister Abhisit Vejjajiva resign immediately, dissolve parliament, and call new elections.
The Red Shirts say Abhisit's government came to power by manipulating the courts with support from the military. They accuse the national elite of being indifferent to the poor.
The military has surrounded the protest zone and most of the fighting is taking place in the perimeter between the soldiers and protesters. The Red Shirts have used gasoline bombs, firecrackers, rocks, and guns to attack troops positioned behind sandbag bunkers. The soldiers have responded with rubber bullets and live ammunition.
compiled from agency reports
Link to original story on RFE/RL website
Copyright notice: Copyright (c) 2007-2009. RFE/RL, Inc. Reprinted with the permission of Radio Free Europe/Radio Liberty, 1201 Connecticut Ave., N.W. Washington DC 20036