U.S. envoy in Tripoli hails new rulers on security
| | |
| --- | --- |
| Publisher | Radio Free Europe/Radio Liberty |
| Publication Date | 14 September 2011 |
| Cite as | Radio Free Europe/Radio Liberty, U.S. envoy in Tripoli hails new rulers on security, 14 September 2011, available at: http://www.refworld.org/docid/4e8973d12.html [accessed 21 May 2013] |
| Disclaimer | This is not a UNHCR publication. UNHCR is not responsible for, nor does it necessarily endorse, its content. Any views expressed are solely those of the author or publisher and do not necessarily reflect those of UNHCR, the United Nations or its Member States. |
September 14, 2011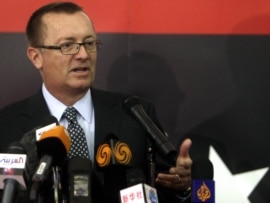 U.S. diplomat Jeffrey Feltman in Benghazi on May 24
A senior U.S. diplomat visiting Tripoli has hailed the Libyan interim government's increasing control over security forces and said Washington would reopen its embassy in the capital as soon as possible.
Jeffrey Feltman, the assistant secretary of state for Near Eastern affairs, told a news conference in Tripoli that the United States was committed to continuing military operations with NATO as long as they were needed to protect Libyan civilians.
Feltman spoke after meeting the chairman of the National Transitional Council, Mustafa Abdel Jalil.
Interim government forces are besieging one of deposed leader Muammar Qaddafi's strongholds, Bani Walid, 180 kilometers south of Tripoli, along with Qaddafi's hometown of Sirte on the Mediterranean coast and Sabha, deep in the southern desert.
Qaddafi's whereabouts is unknown. His spokesman, Moussa Ibrahim, told the media by satellite phone on September 14 that Qaddafi was in Libya and his forces controlled "huge areas" of the country.
Ibrahim declined to say where exactly in Libya Qaddafi was.
compiled from agency reports
Link to original story on RFE/RL website
Copyright notice: Copyright (c) 2007-2009. RFE/RL, Inc. Reprinted with the permission of Radio Free Europe/Radio Liberty, 1201 Connecticut Ave., N.W. Washington DC 20036