Libya: Rebels claim capture of Brega oil hub
| | |
| --- | --- |
| Publisher | Radio Free Europe/Radio Liberty |
| Publication Date | 20 August 2011 |
| Cite as | Radio Free Europe/Radio Liberty, Libya: Rebels claim capture of Brega oil hub, 20 August 2011, available at: http://www.refworld.org/docid/4e5cdbd427.html [accessed 5 December 2013] |
| Disclaimer | This is not a UNHCR publication. UNHCR is not responsible for, nor does it necessarily endorse, its content. Any views expressed are solely those of the author or publisher and do not necessarily reflect those of UNHCR, the United Nations or its Member States. |
Last updated (GMT/UTC): 20.08.2011 13:09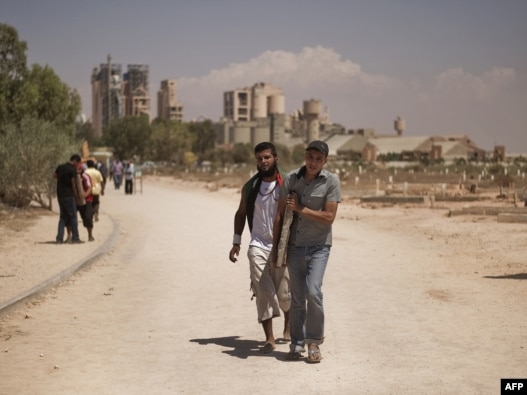 A man carries a stone slate used to seal a grave during the funerals of three rebels killed in the battle for control of Brega on August 18.
Libyan rebels say they have taken all of the strategic oil hub of Brega in the east of the country.
The claim, which has not yet been independently confirmed, comes a day after rebels claimed they had seized two other key towns, Zawiyah and Zlitan, as they push their advance on the capital, Tripoli.
Advances by the NATO-backed rebels have threatened to cut off Tripoli, Qaddafi's main stronghold, from main supply routes.
The Libyan government has rejected the rebel claims, with a Qaddafi spokesman, Moussa Ibrahim, saying pro-Qaddafi forces continue to hold the advantage in both Zawiyah and Zlitan.
More than 30 rebels were reported killed and scores injured in recent fighting over Zlitan.
In another development, the rebels announced that Qaddafi's former top aide, Abdul Salam Jalloud, has defected and joined them.
Jalloud was a member of the junta that carried out the 1969 coup that brought Qadaffi to power, and also served as prime minister.
compiled from agency reports
Link to original story on RFE/RL website
Copyright notice: Copyright (c) 2007-2009. RFE/RL, Inc. Reprinted with the permission of Radio Free Europe/Radio Liberty, 1201 Connecticut Ave., N.W. Washington DC 20036