South Korea restarts propaganda broadcasts to North
| | |
| --- | --- |
| Publisher | Radio Free Europe/Radio Liberty |
| Publication Date | 25 May 2010 |
| Cite as | Radio Free Europe/Radio Liberty, South Korea restarts propaganda broadcasts to North, 25 May 2010, available at: http://www.refworld.org/docid/4c172b1f18.html [accessed 25 May 2016] |
| Disclaimer | This is not a UNHCR publication. UNHCR is not responsible for, nor does it necessarily endorse, its content. Any views expressed are solely those of the author or publisher and do not necessarily reflect those of UNHCR, the United Nations or its Member States. |
Last updated (GMT/UTC): 25.05.2010 11:03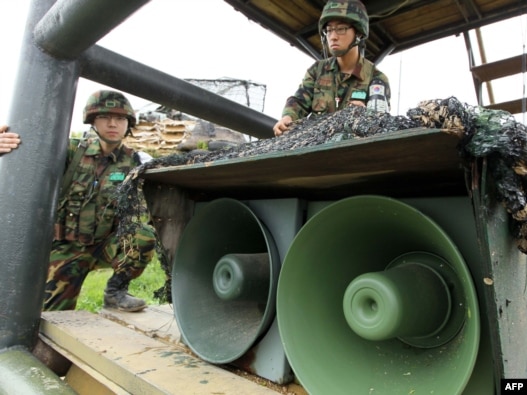 South Korean soldiers stand by loudspeakers at a guard post near the demilitarized zone separating the two Koreas in Yanggu on May 24.
South Korea has resumed propaganda broadcasts to the North, amid high tension over the sinking of a Southern warship.
An international panel says a torpedo fired from a North Korean submarine sent the ship down in March, killing 46 sailors, but Pyongyang denies this.
Seoul, which has already suspended trade ties with Pyongyang over the sinking, began playing radio programs broadcast via border loudspeakers.
South Korea says it will also drop propaganda leaflets into the North to tell people about the incident and set up giant electronic billboards to flash messages.
Meanwhile, North Korean leader Kim Jong Il is reported to have ordered his military to be on a combat footing, according to South Korea's Yonhap news agency.
The North's military also claims South Korean Navy ships repeatedly violated the countries' disputed western sea border this month and threatened to take "practical" military measures in response.
The United States backed South Korea, confirming that it will hold joint naval exercises with the country. China and Russia today called for restraint.
Seoul plans to refer North Korea to the UN Security Council.
UN Secretary-General Ban Ki-moon said he expects the Security Council to take action against North Korea, calling the evidence that the North was responsible "overwhelming and deeply troubling."
The Obama administration endorsed Lee's demand that "North Korea immediately apologize and punish those responsible for the attack."
In Beijing, U.S. Secretary of State Hillary Clinton called on China to also put pressure on North Korea over the sinking of the ship.
"North Korea is also a matter of urgent concern. Last year, we worked together to pass and enforce a strong UN Security Council resolution in the wake of North Korea's nuclear test," she said. "And today, we face another serious challenge provoked by the sinking of the South Korean ship.
"So we must work together again to address this challenge and advance our shared objectives for peace and stability on the Korean peninsula."
compiled from agency reports
Link to original story on RFE/RL website
Copyright notice: Copyright (c) 2007-2009. RFE/RL, Inc. Reprinted with the permission of Radio Free Europe/Radio Liberty, 1201 Connecticut Ave., N.W. Washington DC 20036