No progress reported in hostage talks with Taliban
| | |
| --- | --- |
| Publisher | Radio Free Europe/Radio Liberty |
| Publication Date | 16 August 2007 |
| Cite as | Radio Free Europe/Radio Liberty, No progress reported in hostage talks with Taliban, 16 August 2007, available at: http://www.refworld.org/docid/46c95d60a.html [accessed 28 May 2016] |
| Disclaimer | This is not a UNHCR publication. UNHCR is not responsible for, nor does it necessarily endorse, its content. Any views expressed are solely those of the author or publisher and do not necessarily reflect those of UNHCR, the United Nations or its Member States. |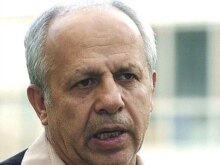 Ghazni Governor Merajuddin Pattan (file photo) (AFP)
August 16, 2007 (RFE/RL) – The International Committee of the Red Cross and a Taliban spokesman say a fourth round of direct talks today between Taliban and South Korean delegates ended without any progress.
The two sides met south of Kabul.
The Taliban again demanded that the Afghan government release eight Taliban prisoners.
Ghazni Governor Merajuddin Pattan told Radio Free Afghanistan that he knows of no immediate plans by the Afghan government to release any Taliban prisoners.
A Red Cross official said it is not immediately clear if there will be a new round of discussions on August 17.
The hostage takers abducted 23 South Korean Christian volunteer aid workers on July 19 from a chartered passenger bus as it was passing through Ghazni Province. The foreigners were returning to Kabul from Kandahar, where they had been providing medical aid to Afghan civilians.
The Taliban has executed two men from the group.
The militants on August 13 released two women hostages who had fallen critically ill, saying they were freed unconditionally as a "goodwill gesture."
That release came after numerous complaints in Afghan media by ordinary Afghans who said the Taliban is violating the Koran by using women as hostages.
Sixteen of the 19 remaining hostages are women.
(with agency reports)
Copyright notice: Copyright (c) 2007-2009. RFE/RL, Inc. Reprinted with the permission of Radio Free Europe/Radio Liberty, 1201 Connecticut Ave., N.W. Washington DC 20036