Amnesty criticizes suppliers of weapons used against 'Arab Spring' protesters
| | |
| --- | --- |
| Publisher | Radio Free Europe/Radio Liberty |
| Publication Date | 19 October 2011 |
| Cite as | Radio Free Europe/Radio Liberty, Amnesty criticizes suppliers of weapons used against 'Arab Spring' protesters, 19 October 2011, available at: http://www.refworld.org/docid/4eaaa81ac.html [accessed 25 April 2018] |
| Disclaimer | This is not a UNHCR publication. UNHCR is not responsible for, nor does it necessarily endorse, its content. Any views expressed are solely those of the author or publisher and do not necessarily reflect those of UNHCR, the United Nations or its Member States. |
October 19, 2011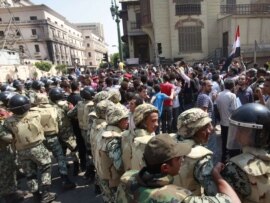 Amnesty International says many of the weapons used by security forces to suppress protests in the Middle East came from countries backing the protesters.
Amnesty International says many of the countries now backing this year's protests in the Middle East also supplied some of the weapons used against demonstrators.
In a fresh report, Amnesty studied arms transfers to Egypt, Libya, Yemen, Syria and Bahrain since 2005.
Amnesty said among the main arms suppliers to these countries were Russia, the United States, France and Germany, as well as the Czech Republic and Bulgaria.
Amnesty said many of the heavy weapons found in Libya by the human rights organization's researchers were either from Russia or from the former Soviet Union, such as Grad rockets which Amnesty described as "inherently indiscriminate."
The group says countries must tighten arms export controls to avoid the risk that weapons will be used to violate human rights.
The report comes as the human rights group urges the U.S. Congress to block a $53 million proposed arms sale to Bahrain where security forces have killed more than 30 protesters.
In response, U.S. State Department spokesman Mark Toner said a final decision on the arms sale had not been made, and noted many members of Congress had expressed concern about the deal.
"We're going to continue to look at all the elements on the ground, including the human rights situation," Toner told reporters.
Toner refused to speculate on whether the sale could be scrapped if the Bahraini government fails to implement reforms. But he did say the United States would study an independent Bahraini report on alleged human rights violations expected to be released soon.
compiled from agency reports
Link to original story on RFE/RL website
Copyright notice: Copyright (c) 2007-2009. RFE/RL, Inc. Reprinted with the permission of Radio Free Europe/Radio Liberty, 1201 Connecticut Ave., N.W. Washington DC 20036