First Cuban dissidents arrive in Spain
| | |
| --- | --- |
| Publisher | Radio Free Europe/Radio Liberty |
| Publication Date | 13 July 2010 |
| Cite as | Radio Free Europe/Radio Liberty, First Cuban dissidents arrive in Spain, 13 July 2010, available at: http://www.refworld.org/docid/4c56d2a1c.html [accessed 30 May 2016] |
| Disclaimer | This is not a UNHCR publication. UNHCR is not responsible for, nor does it necessarily endorse, its content. Any views expressed are solely those of the author or publisher and do not necessarily reflect those of UNHCR, the United Nations or its Member States. |
Last updated (GMT/UTC): 13.07.2010 19:45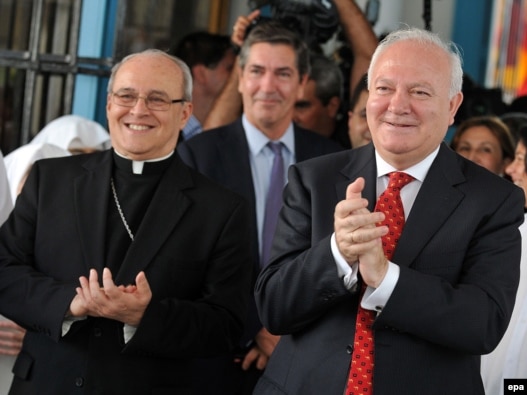 Cuban Cardinal Jaime Ortega y Alamino (left) and Spanish Foreign Minister Miguel Angel Moratinos, who negotiated the release, visit to the Santovenia asylum in Havana on July 7.
The first wave of political prisoners promised freedom by Cuba have arrived in the Spanish capital.
Havana on July 7 announced the release of 52 political prisoners – all arrested in a crackdown in 2003 – following talks between Cuban President Raul Castro, Roman Catholic Church leaders, and Spanish officials.
Officials say seven dissidents arrived on an Air Europa flight while the seventh arrived on a later Iberia Airlines flight. They arrived in Madrid, accompanied by their families.
Spain's Foreign Minister Miguel Angel Moratinos said four more political prisoners will arrive in Spain over the next two days.
Cuban human rights activist Elizardo Sanchez criticized Cuba's treatment of the released prisoners in remarks to reporters at the Havana airport as their flight took off late on July 12.
"Several colleagues from the human rights movements and I have come here to witness the departure of a group of prisoners of conscience and their families," Sanchez said.
"But it seems that the government of Cuba is throwing them out of the country in a clandestine manner, as if they were terrorists or drug traffickers. That is to say, it is a really offensive way of having people leave. They are absolutely innocent."
Third Of Political Prisoners
If all 52 political prisoners are freed, it would be the largest release of political prisoners by Cuba's communist government since 1998, when 101 were freed following a visit by the late Pope John Paul II.
Spain has offered to take in the prisoners, all of whom were charged with opposition activity and were serving sentences ranging from 13 to 24 years. Catholic officials say so far 20 of the 52 dissidents have accepted Spain's offer. Twenty-nine of the 52 are journalists.
Cuba has not offered an explanation for its decision to free the prisoners, but the country's reputation suffered after political dissident Orlando Zapata Tamayo died in jail following an 85-day hunger strike in late February.
Cuba was also subject to international outrage in March and April for its harassment of the Ladies in White, a protest group started by the wives and female relatives of jailed dissidents.
News of freedom for what would be one-third of Cuba's total known political prisoners prompted jailed dissident Guillermo Farinas to end his 130-day hunger strike amid reports that he was near death.
Cuban revolutionary leader Fidel Castro did not mention the prisoners' release when he made a rare television appearance on July 12.
compiled from agency reports
Link to original story on RFE/RL website
Copyright notice: Copyright (c) 2007-2009. RFE/RL, Inc. Reprinted with the permission of Radio Free Europe/Radio Liberty, 1201 Connecticut Ave., N.W. Washington DC 20036