Ivory Coast: Pro-Outtara forces launch assault on presidential palace
| | |
| --- | --- |
| Publisher | Radio Free Europe/Radio Liberty |
| Publication Date | 5 April 2011 |
| Cite as | Radio Free Europe/Radio Liberty, Ivory Coast: Pro-Outtara forces launch assault on presidential palace, 5 April 2011, available at: http://www.refworld.org/docid/4e20435623.html [accessed 1 June 2016] |
| Disclaimer | This is not a UNHCR publication. UNHCR is not responsible for, nor does it necessarily endorse, its content. Any views expressed are solely those of the author or publisher and do not necessarily reflect those of UNHCR, the United Nations or its Member States. |
Last updated (GMT/UTC): 05.04.2011 14:21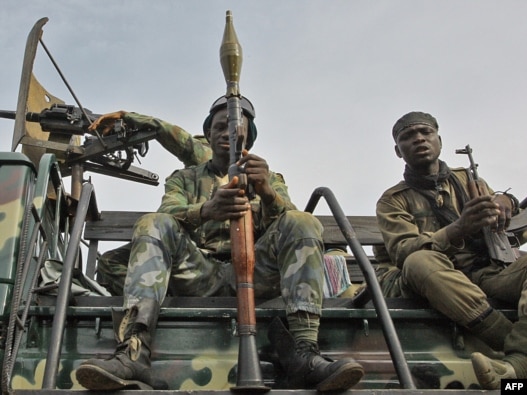 Pro-Ouattara fighters prepare for the so-called "final assault" in Abidjan today.
Forces loyal to Ivory Coast's internationally recognized presidential election winner Alassane Ouattara have launched an assault on the presidential palace still held by Laurent Gbagbo.
Residents near the palace in the center of the main city, Abidjan, have fled the area. The United Nations' mission in the country says Gbagbo is in a bunker at the palace.
Meanwhile, French Prime Minister Francois Fillon said two generals close to Gbagbo were involved in negotiating his surrender.
Gbagbo's spokesman, Ahoua Don Mello, confirmed to Reuters that Gbagbo was negotiating his departure from power.
The assault on the palace was launched after UN and French helicopters targeted Gbagbo's military bases. The UN says Gbagbo's forces have been attacking UN personnel and facilities, and targeting civilians.
Russian Foreign Minister Sergei Lavrov today questioned the use of force by UN peacekeepers in Ivory Coast, saying their mandate requires them to be "neutral and impartial."
The conflict in Ivory Coast since last November's election has left more than 1,500 people dead, including hundreds who were reported killed in massacres last week.
compiled from agency reports
Link to original story on RFE/RL website
Copyright notice: Copyright (c) 2007-2009. RFE/RL, Inc. Reprinted with the permission of Radio Free Europe/Radio Liberty, 1201 Connecticut Ave., N.W. Washington DC 20036