Bahrain jails 20 doctors after democracy protests
| | |
| --- | --- |
| Publisher | Radio Free Europe/Radio Liberty |
| Publication Date | 30 September 2011 |
| Cite as | Radio Free Europe/Radio Liberty, Bahrain jails 20 doctors after democracy protests, 30 September 2011, available at: http://www.refworld.org/docid/4e9ea76bc.html [accessed 9 December 2013] |
| Disclaimer | This is not a UNHCR publication. UNHCR is not responsible for, nor does it necessarily endorse, its content. Any views expressed are solely those of the author or publisher and do not necessarily reflect those of UNHCR, the United Nations or its Member States. |
September 30, 2011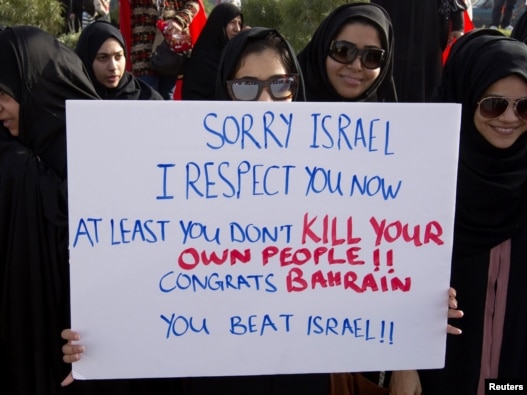 Bahraini antigovernment protesters demonstrating in Manama in February.
Bahrain has jailed 20 doctors for between five and 15 years on theft and other charges.
The doctors, who denied the accusations, were among dozens of medical staff arrested during protests led by the island's Shi'ite majority, demanding an end to sectarian discrimination and a greater say in government.
Bahrain's Sunni Muslim rulers quashed the protests in March, with the help of troops from fellow Sunni neighbors Saudi Arabia and the United Arab Emirates.
At least 30 people were killed, hundreds wounded and more than 1,000 detained – mostly Shi'ites – in the crackdown.
In Washington, a U.S. State Department spokesman said the United States was "deeply disturbed" by the sentencing of the doctors.
"We continue to urge the Bahraini government to abide by its commitment to transparent judicial proceedings, including a fair trial, access to attorneys, and verdicts based on credible evidence," spokesman Mark Toner said in a statement.
The British government voiced concern over the sentences.
"These sentences appear disproportionate to the charges brought," British Foreign Secretary William Hague said. "These are worrying developments that could undermine the Bahraini government's moves towards dialogue and the reform needed for long-term stability in Bahrain."
Reuters
Link to original story on RFE/RL website
Copyright notice: Copyright (c) 2007-2009. RFE/RL, Inc. Reprinted with the permission of Radio Free Europe/Radio Liberty, 1201 Connecticut Ave., N.W. Washington DC 20036