Libyan rebels due in Brussels
| | |
| --- | --- |
| Publisher | Radio Free Europe/Radio Liberty |
| Publication Date | 12 July 2011 |
| Cite as | Radio Free Europe/Radio Liberty, Libyan rebels due in Brussels, 12 July 2011, available at: http://www.refworld.org/docid/4e390545a.html [accessed 28 May 2016] |
| Disclaimer | This is not a UNHCR publication. UNHCR is not responsible for, nor does it necessarily endorse, its content. Any views expressed are solely those of the author or publisher and do not necessarily reflect those of UNHCR, the United Nations or its Member States. |
July 12, 2011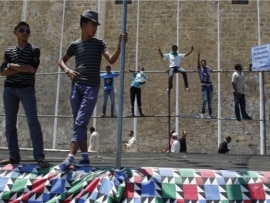 Libyan men stand during a protest after Friday prayers in Green Square, downtown Tripoli
Libyan rebel leaders are expected to visit Belgium today for talks with NATO and European Union officials.
The visit comes after French Foreign Minister Alain Juppe announced officials close to Muammar Qaddafi have been in contact with NATO members to say he is ready to leave power.
Washington, however, expressed doubts over such reports. State Department spokeswoman Victoria Nuland said there are "a lot of folks" claiming to speak for Qaddafi.
In an interview with the French daily, "Le Figaro", Libyan Prime Minister Baghdadi al-Mahmoudi said Tripoli was ready for talks, but only after NATO stop its bombing campaign.
Meanwhile, U.S. officials have told the AP news agency that Libyan rebels have taken a number of western mountain towns, cutting off the Qaddafi government to access of a key oil pipeline.
The U.S. officials estimate fuel supplies are low in Tripoli and could start running out within a month.
They also say military and government officials are not receiving salaries due to a lack of cash. The U.S. officials cite small civil protests in Tripoli to back the claim.
compiled from agency reports
Link to original story on RFE/RL website
Copyright notice: Copyright (c) 2007-2009. RFE/RL, Inc. Reprinted with the permission of Radio Free Europe/Radio Liberty, 1201 Connecticut Ave., N.W. Washington DC 20036