Thai parliament elects first female prime minister
| | |
| --- | --- |
| Publisher | Radio Free Europe/Radio Liberty |
| Publication Date | 5 August 2011 |
| Cite as | Radio Free Europe/Radio Liberty, Thai parliament elects first female prime minister, 5 August 2011, available at: http://www.refworld.org/docid/4e4a293223.html [accessed 1 December 2015] |
| Disclaimer | This is not a UNHCR publication. UNHCR is not responsible for, nor does it necessarily endorse, its content. Any views expressed are solely those of the author or publisher and do not necessarily reflect those of UNHCR, the United Nations or its Member States. |
August 05, 2011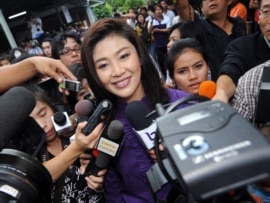 Yingluck Shinawatra who is set to become Thailand's first female prime minister.
Thailand's parliament has elected Yingluck Shinawatra to become the country's first female prime minister.
Yingluck, 44, is a sister of Thaksin Shinawatra, the fugitive former prime minister who was ousted in a 2006 military coup and now resides in exile in Dubai to avoid a two-year jail term for abuse of office.
Thaksin is still seen as the de facto leader of Yingluck's party (Pheu Thai) that won the general election in July.
Thaksin's populist policies during his two terms as prime minister won him a large following among poor urban and rural voters.
His ouster in 2006 by the army supported by the royalists and the business elite was followed by violent unrest, with the country split between his "Red Shirt" supporters and "Yellow Shirt" opponents.
Before Yingluck takes office, her selection has to be endorsed by the king.
compiled from agency reports
Link to original story on RFE/RL website
Copyright notice: Copyright (c) 2007-2009. RFE/RL, Inc. Reprinted with the permission of Radio Free Europe/Radio Liberty, 1201 Connecticut Ave., N.W. Washington DC 20036