South Sudan becomes 193rd UN member
| | |
| --- | --- |
| Publisher | Radio Free Europe/Radio Liberty |
| Publication Date | 14 July 2011 |
| Cite as | Radio Free Europe/Radio Liberty, South Sudan becomes 193rd UN member, 14 July 2011, available at: http://www.refworld.org/docid/4e39055223.html [accessed 29 May 2016] |
| Disclaimer | This is not a UNHCR publication. UNHCR is not responsible for, nor does it necessarily endorse, its content. Any views expressed are solely those of the author or publisher and do not necessarily reflect those of UNHCR, the United Nations or its Member States. |
July 14, 2011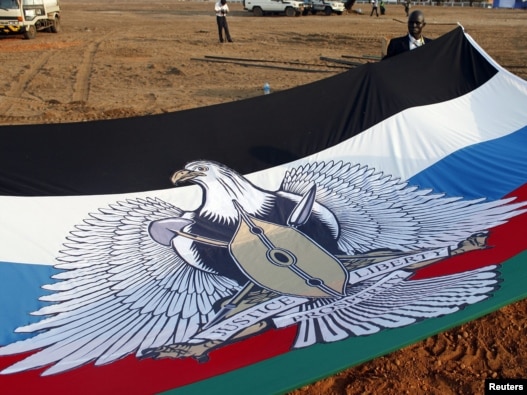 A South Sudan flag is prepared for South Sudan's Independence Day celebrations in Juba on July 8.
The General Assembly has admitted South Sudan as the 193rd member of the United Nations.
The assembly vote, by acclamation, followed the African country's achievement of independence on July 9, breaking away from Sudan.
South Sudan achieved independence after its people voted for secession from the rest of the country in a January referendum, under the terms of a 2005 peace deal that ended a 20-year war between north and south Sudan.
Sudan became independent in 1956 but was long plagued by conflict between its mainly Muslim Arabic-speaking north and its south, where many are Christian or follow traditional beliefs.
The last country to achieve UN membership was Montenegro in 2006 but veto-holding China and Russia have blocked Taiwan and Kosovo, respectively, from joining the world body.
Some 7,000 UN blue helmets will continue to serve in South Sudan.
compiled from agency reports
Link to original story on RFE/RL website
Copyright notice: Copyright (c) 2007-2009. RFE/RL, Inc. Reprinted with the permission of Radio Free Europe/Radio Liberty, 1201 Connecticut Ave., N.W. Washington DC 20036