Islamists claim lead in Tunisia vote
| | |
| --- | --- |
| Publisher | Radio Free Europe/Radio Liberty |
| Publication Date | 24 October 2011 |
| Cite as | Radio Free Europe/Radio Liberty, Islamists claim lead in Tunisia vote, 24 October 2011, available at: http://www.refworld.org/docid/4ec503fe2d.html [accessed 30 May 2016] |
| Disclaimer | This is not a UNHCR publication. UNHCR is not responsible for, nor does it necessarily endorse, its content. Any views expressed are solely those of the author or publisher and do not necessarily reflect those of UNHCR, the United Nations or its Member States. |
Last updated (GMT/UTC): 24.10.2011 08:15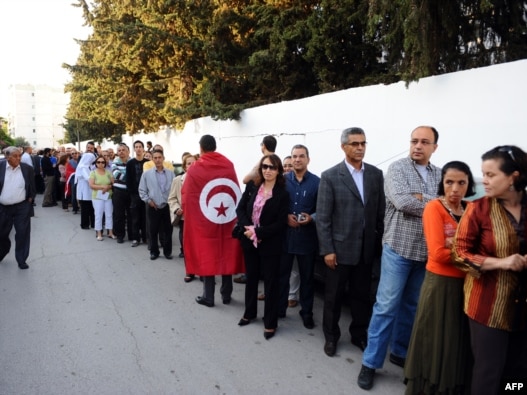 Tunisians wait in line outside a polling station in Tunis on October 23, 2011.
Tunisia's main Islamist party, Ennahda, claims to have received more than 30 percent of the vote in the country's first free polls.
Tunisians voted on October 23 to elect a constituent assembly in the first free elections since former President Zine al-Abidine ben Ali was overthrown in a popular uprising nine months ago after ruling the country for 23 years.
Official results were not due until October 25, but provisional figures appeared to confirm Ennahda's prediction that it would be the dominant force in the constituent assembly.
The leader of the secular center-left PDP party, seen as Ennahda's main challenger before the vote, has conceded defeat.
Electoral officials said more than 90 percent of the 4.1 million registered voters turned out to cast their ballots.
Dozens of parties had registered to participate in the election for a constituent assembly which will draw up a constitution and appoint a transitional government.
compiled from agency reports
Link to original story on RFE/RL website
Copyright notice: Copyright (c) 2007-2009. RFE/RL, Inc. Reprinted with the permission of Radio Free Europe/Radio Liberty, 1201 Connecticut Ave., N.W. Washington DC 20036