Syria truce marred by clashes
| | |
| --- | --- |
| Publisher | Radio Free Europe/Radio Liberty |
| Publication Date | 26 October 2012 |
| Cite as | Radio Free Europe/Radio Liberty, Syria truce marred by clashes, 26 October 2012, available at: http://www.refworld.org/docid/5090e5acc.html [accessed 24 May 2016] |
| Disclaimer | This is not a UNHCR publication. UNHCR is not responsible for, nor does it necessarily endorse, its content. Any views expressed are solely those of the author or publisher and do not necessarily reflect those of UNHCR, the United Nations or its Member States. |
Last updated (GMT/UTC): 26.10.2012 16:35
By RFE/RL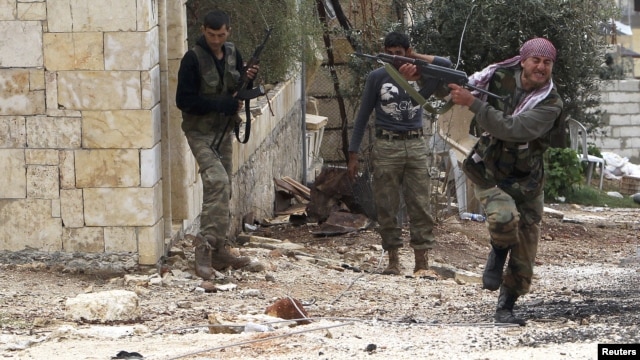 A member of the Free Syrian Army fires at a sniper as he runs for cover during clashes with pro-government forces in Harem on October 25.
A series of clashes are being reported in Syria in violation of a cease-fire to mark the Islamic Eid al-Adha holiday.
The director of the Syrian Observatory for Human Rights told AFP that "the cease-fire has collapsed in several regions of Syria, but there is still less violence and fewer victims than usual."
The London-based group reported heavy clashes at a military base in the north.
In a Damascus suburb, several people were reported killed by tank and sniper fire.
Also, Syrian state television reports that at least five people were killed and 32 wounded in a car bombing in Damascus.
Syrian activists say three soldiers were killed in a separate car-bomb attack in the city of Daraa.
Meanwhile, the Al-Nusra Front, an Islamist militant opposition group that has rejected the cease-fire, clashed with troops at a base outside the town of Maaret al-Numan, on the road between Damascus and Aleppo.
Deaths were also reported in the cities of Homs and Idlib.
The Syrian Army said it was responding to attacks by armed rebels that were in violation of the temporary cease-fire.
Elsewhere, thousands of protesters took advantage of the lull to mount antigovernment demonstrations.
Earlier, the international envoy on Syria, Lakhdar Brahimi, said the four-day truce that started on October 26 could start the process of ending the 19-month conflict between Syrian government forces and rebels.
Previous attempts at cease-fires in Syria have collapsed.
The Syrian Army announced it would abide by the cease-fire, but reserved the right to respond to any rebel attack or moves to reinforce President Bashar al-Assad's armed foes.
The rebel Free Syrian Army said its fighters would also honor the truce, but demanded Assad free detainees.
'Stop Quarreling'
Syrian state television showed Assad attending morning Friday Prayers at an unidentified mosque in Damascus. In his sermon, the imam called on Syrians to "stop quarreling, because you are all brothers.
In Saudi Arabia, the imam of Mecca's Grand Mosque called on Arabs and Muslims to take "practical and urgent" steps to stop bloodshed in Syria. In his sermon during Eid prayers, Sheikh Salih Muhammad al-Talib said, "the oppressor becomes even more fierce as the days pass."
Saudi Arabia, along with Turkey and Qatar, are backing the opposition in Syria's civil war. Iran has been one of the Assad regime's strongest backers.
The UN Security Council backed Brahimi's proposed cease-fire on October 24, but has been deadlocked over taking any stronger action to try and end the conflict.
China and Russia have vetoed resolutions calling for tougher action against Assad.
Russia welcomed the planned cease-fire as "fundamentally important," saying it opened the door to a political solution to end the fighting.
The United States expressed skepticism over the cease-fire, however, saying the Syrian regime had not proved that it can uphold agreements.
Activists say more than 35,000 people have been killed since the uprising against Assad's government started in March 2011.
With reporting by AFP, Reuters, and dpa
Link to original story on RFE/RL website
Copyright notice: Copyright (c) 2007-2009. RFE/RL, Inc. Reprinted with the permission of Radio Free Europe/Radio Liberty, 1201 Connecticut Ave., N.W. Washington DC 20036