Pakistani teen 'critical but stable'; rally condemns Taliban attackers
| | |
| --- | --- |
| Publisher | Radio Free Europe/Radio Liberty |
| Publication Date | 10 October 2012 |
| Cite as | Radio Free Europe/Radio Liberty, Pakistani teen 'critical but stable'; rally condemns Taliban attackers, 10 October 2012, available at: http://www.refworld.org/docid/50890714213.html [accessed 24 May 2016] |
| Disclaimer | This is not a UNHCR publication. UNHCR is not responsible for, nor does it necessarily endorse, its content. Any views expressed are solely those of the author or publisher and do not necessarily reflect those of UNHCR, the United Nations or its Member States. |
Last updated (GMT/UTC): 10.10.2012 11:38
By RFE/RL's Radio Mashaal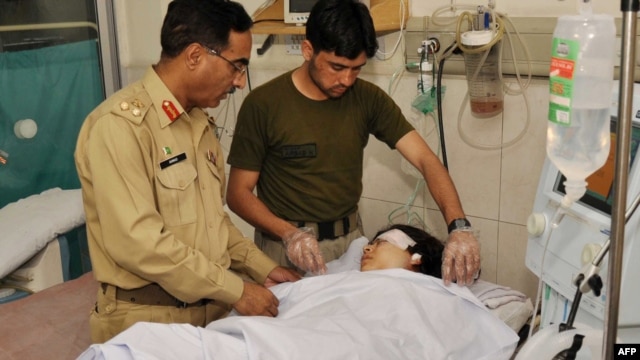 Doctors treat Malala Yousafzai at an army hospital following an attack by gunmen in Peshawar on October 9.
PESHAWAR, Pakistan – More than 100 activists in northwestern Pakistan have rallied to protest Taliban militants' shooting of 14-year-old peace activist Malala Yousafzai.
The Pakistani peace group Amn Tehreek (Peace Movement) organized the protest in Peshawar, where Yousafzai is being treated in a military hospital after being shot in the head and neck on October 9 as she returned home from a girls school in the volatile northwestern Swat Valley.
Her condition has been described as critical but stable after successful surgery to remove a bullet lodged in her neck.
"She did not talk since she was operated on and she is unconscious," Ahmad Shah, a family friend of Yousafzai, told RFE/RL's Radio Mashaal on October 10. "The doctors say she will remain in the same condition for another 48 hours."
Shah said doctors were monitoring her condition to determine whether Yousafzai needed to be moved abroad for treatment.
The Taliban have claimed responsibility for the attack in Saidu Sharif, the capital of the northwestern Swat district, calling Yousafzai's campaigning work "obscenity."
The demonstrators in Peshawar held banners and placards with slogans condemning terrorism and calling for a peaceful future for their children.
Maryam Bibi, the head of a local nongovernmental organization who attended the demonstration, called on the government to put an end to the intimidation of civilians by the Taliban.
"These people want to enforce their will over us by force. And they want to impose their will on the weak people. Malala, an innocent girl, is an example of that," Bibi said.
Pakistani politicians, led by the president and prime minister, civil society, and the media have strongly condemned the attack.
Yousafzai has been awarded international and Pakistani prizes for highlighting Taliban atrocities and the plight of the people of Swat in a 2009 blog for the BBC.
Pakistani politicians, led by the president and prime minister, civil society, and the media have strongly denounced the attack.
In a unanimous resolution on October 10, the Pakistani parliament called for the perpetrators of the attack to be punished and asked the government to pay for Yousafzai's treatment.
Pakistan's influential army chief, General Ashfaq Kayani, visited Yousafzai in hospital and condemned her shooting as a "heinous act of terrorism."
"The cowards who attacked Malala and her fellow students have shown time and again how little regard they have for human life and how low they can fall in their cruel ambition to impose their twisted ideology," Kavani said.
The attack on Yousafzai has also drawn strong condemnation abroad.
Afghan President Hamid Karzai said her assailants opposed "progress and development of the peoples" on both sides of the border between Afghanistan and Pakistan.
U.S. State Department spokeswoman Victoria Nuland called the shooting "barbaric" and "cowardly."
Leila Zerrougui, the UN special representative for children in armed conflict, condemned the attack "in the harshest terms."
Yousafzai came to public attention in 2009 by writing a blog about the atrocities of the Pakistani Taliban while militants controlled the Swat Valley where she lives.
One or more gunmen opened fire on Yousafzai's school bus after reportedly asking her identity, seriously wounding her but also injuring two other children.
With additional reporting by Reuters and BBC
Link to original story on RFE/RL website
Copyright notice: Copyright (c) 2007-2009. RFE/RL, Inc. Reprinted with the permission of Radio Free Europe/Radio Liberty, 1201 Connecticut Ave., N.W. Washington DC 20036