Germany to loan Libyan rebels 100 million euros
| | |
| --- | --- |
| Publisher | Radio Free Europe/Radio Liberty |
| Publication Date | 24 July 2011 |
| Cite as | Radio Free Europe/Radio Liberty, Germany to loan Libyan rebels 100 million euros, 24 July 2011, available at: http://www.refworld.org/docid/4e39057d28.html [accessed 29 November 2015] |
| Disclaimer | This is not a UNHCR publication. UNHCR is not responsible for, nor does it necessarily endorse, its content. Any views expressed are solely those of the author or publisher and do not necessarily reflect those of UNHCR, the United Nations or its Member States. |
July 24, 2011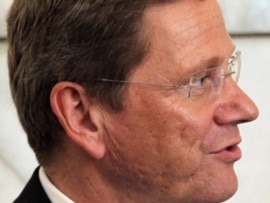 German Foreign Minister Guido Westerwelle said the money was being provided to address shortages of medical care and food.
Germany has announced that it's loaning Libyan rebels 100 million euros ($144 million) in humanitarian funding, as fresh NATO air strikes are reported to have struck targets in and around Tripoli.
German Foreign Minister Guido Westerwelle said the funds were being provided "to build up the necessary structures and overcome supply shortages – from medical care to food," adding that particularly in eastern Libya, "people are suffering more and more from this."
He said the money was to be paid back out of embattled Libyan ruler Muammar Qaddafi's assets, which are currently frozen, once the United Nations has released them to the new government.
Germany is not part of the NATO air-strike mission in Libya, and abstained from the UN vote allowing military intervention there.
Meanwhile, air strikes were reported to have occurred not far from Qaddafi's Bab al-Aziziyah compound as well as in the east and southeast of Tripoli early on July 24.
Libyan rebels in February launched operations aimed at toppling Qaddafi's regime and are now in control of roughly half the country.
compiled from agency reports
Link to original story on RFE/RL website
Copyright notice: Copyright (c) 2007-2009. RFE/RL, Inc. Reprinted with the permission of Radio Free Europe/Radio Liberty, 1201 Connecticut Ave., N.W. Washington DC 20036