British council suspends operations in Iran
| | |
| --- | --- |
| Publisher | Radio Free Europe/Radio Liberty |
| Publication Date | 5 February 2009 |
| Cite as | Radio Free Europe/Radio Liberty, British council suspends operations in Iran, 5 February 2009, available at: http://www.refworld.org/docid/49904c6a2d.html [accessed 25 May 2016] |
| Disclaimer | This is not a UNHCR publication. UNHCR is not responsible for, nor does it necessarily endorse, its content. Any views expressed are solely those of the author or publisher and do not necessarily reflect those of UNHCR, the United Nations or its Member States. |
February 05, 2009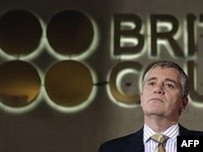 British Council head Martin Davidson said Iran's actions were "unacceptable."
(RFE/RL) – The British Council, an international organization engaged in cultural and educational programs, has halted its activities in Tehran to protest the alleged intimidation of its local employees by Iranian authorities.
In announcing the suspension, the British Council said it had "no choice but to suspend all cultural relations activities until such a time that operations can be resumed with employees able to conduct their work without fear of intimidation or harassment."
In a statement issued on February 4, the council cited two actions taken by the Iranian authorities as the main reasons for the suspension.
In late December, the statement claimed, 16 local employees were summoned to the office of the Iranian president, "where it was suggested to them they should resign from their posts with the British Council."
Those summons, the statement added, followed the confiscation of two local employees' passports when they attempted to travel abroad to take part in a work-related meeting.
"These actions by the Iranian authorities are unacceptable. They are designed to pressurize our staff with the clear intention of stopping our cultural and educational work in the country," chief executive Martin Davidson was quoted as saying in the statement.
Increasing Tensions
Over the past two years, Tehran has refused to grant visas that would allow British staff to work in Iran, leaving local employees to run the council's operations.
British Foreign Secretary David Miliband said in a statement that it was a "matter of great regret that a country with Iran's culture should reject attempts to break down barriers and build cultural dialogue." He added that he hoped the Iranian government would enable the council to resume its work in Tehran as soon as possible.
Sharan Tabari, a correspondent for RFE/RL's Radio Farda correspondent in London, says the ending of cultural exchanges would be a great loss to the Iranian people.
Tabari notes that Iranian artworks were displayed at Sotheby's auction house and the British Museum, which is also planning an exhibition of Iranian artist Khosrow Hassanzadeh's work. "These cultural exchanges have been benefiting Iranian youth a lot, but unfortunately this door is closed now."
The British Council, a nonpolitical cultural-relations organization that operates in more than 100 countries, originally set up an office in Tehran in 1942. The office was closed in 1979 after the Islamic Revolution, but reopened in 2001 at the request of the Iranian government.
The suspension of the British Council's operations comes amid heightened tensions in Tehran's relationships with Britain and other Western countries over Iran's disputed nuclear program. Iran's announcement this week that it had successfully launched its own satellite into orbit added to their suspicions that Tehran may be seeking to develop nuclear weapons.
In January, Tehran accused Britain of recruiting Iranians for "espionage and psychological warfare" after the BBC launched a Persian-language television channel.
Tehran said Britain was attempting to foment a "velvet revolution" in Iran with the help of the "suspicious and illegal channel working against the interests of the Islamic republic."
Meanwhile, the Iranian Consulate in Dubai this week refused to issue visas for eight U.S. female badminton team players to compete in an international tournament in Tehran.
The U.S. State Department said Iran's refusal to grant them visas was "not a good sign" for the people-to-people diplomacy between the two countries.
compiled from agency reports
Copyright notice: Copyright (c) 2007-2009. RFE/RL, Inc. Reprinted with the permission of Radio Free Europe/Radio Liberty, 1201 Connecticut Ave., N.W. Washington DC 20036