Germany recognizes rebels, U.S. calls on Africa to abandon Qaddafi as fighting still rages in Libya
| | |
| --- | --- |
| Publisher | Radio Free Europe/Radio Liberty |
| Publication Date | 13 June 2011 |
| Cite as | Radio Free Europe/Radio Liberty, Germany recognizes rebels, U.S. calls on Africa to abandon Qaddafi as fighting still rages in Libya, 13 June 2011, available at: http://www.refworld.org/docid/4e142b401d.html [accessed 26 May 2016] |
| Disclaimer | This is not a UNHCR publication. UNHCR is not responsible for, nor does it necessarily endorse, its content. Any views expressed are solely those of the author or publisher and do not necessarily reflect those of UNHCR, the United Nations or its Member States. |
June 13, 2011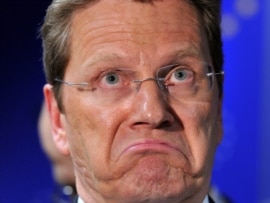 German Foreign Minister Guido Westerwelle
Germany has given official recognition to Libya's rebels, amid a surge in fighting across the country.
German Foreign Minister Guido Westerwelle said on June 13, after meeting rebel leaders in their capital Benghazi, that Germany recognizes their National Transitional Council (NTC) as the "sole legitimate representative" of the Libyan people.
Germany has become the 13th nation to afford the NTC this status as the only valid representative of the Libyan populace.
Berlin abstained from a UN Security Council resolution vote on March 17 backing intervention in Libya and chose not to join the NATO-led air war in support of the rebels.
Meanwhile, U.S. Secretary of State Hillary Clinton speaking in Addis Ababa, Ethiopia, urged African leaders to abandon Qaddafi.
Clinton, the first U.S. secretary of state ever to address the 53-member African Union, said "it has become clear that we are long past the day when he can remain in power."
Fighting between Qaddafi's forces and rebels continued across Libya, with casualties reported in the western town of Zintan and the strategic oil hub of Brega in the east.
There has also been fighting in the mountains southwest of Tripoli.
compiled from agency reports
Link to original story on RFE/RL website
Copyright notice: Copyright (c) 2007-2009. RFE/RL, Inc. Reprinted with the permission of Radio Free Europe/Radio Liberty, 1201 Connecticut Ave., N.W. Washington DC 20036